3D-Gun printer will be unveiled at Texas Capitol by activists
on January 13th, Come and Take it Texas (CATIT), one of the biggest and most forward-thinking guns rights advocates in the US, will be conducting a 2nd Amendment public demonstration at the footsteps of the Austin, Texas Capitol building, showcasing the Ghost Gunner CNC machine.
The Ghost Gunner machine is a non-profit open source hardware effort developed by Defense Distributed, the company behind the world's first ever 3D-printed gun named, the 'Liberator Pistol' and brainchild of Texas-based entrepreneur, Cody Wilson. The R & amp; D and Wilson's 1.0 version of the machine was also funded with Bitcoin.
At this historic launch event, the new Ghost Gunner machine will be finishing the manufacturing of firearms that are up to 80% near completion from being a 'legal' gun. Upon completion, new owners will be able walk away with a fully functional firearm in their possession, minus a serial number or permit.
While speaking with one of the founders of 'Come and Take it Texas', Phoenix Horton, on whether the Washington establishment was threatened by his group's demonstrations, he said, "Washington is threatened by anything they themselves do not fully control. The Obama Administration has put a lot of eggs into their gun control basket and they did not expect us to flip around the argument and put them on the defensive with open carry legislation."
3-D Printed guns made national and world news last year when Cody Wilson and his tech garage non-profit start-up Defense Distributed came under direct attack from New York's liberal Senator Charles Schumer and Congressman Steve Israel, who both wanted to shut down the progenitor of the first 3-D printed gun, and proposed to slap a Federal government ban the technology.
When pressed on the issue of whether the open carry demonstrations are hurting the 2nd Amendment movement the US, CATITX spokesman Murdoch Pizgatti said, "People told us walking around open carrying rifles would hurt the gun rights movement, yet groups across the state have copied our every move and now we stand to reclaim constitutional carry, now they say we are crazy to do this but, we know you either flex your rights or lose them. It's harder to make the trail than to walk on someone else's."
A young organization of just 2 years, Pizgatti and CATI hope to help pass 'Constitutional Carry' Bill HB 195 which will allow the open carry of a firearm without a permit.
Pizgatti explains how, unlike CATI, most of the Washington-based gun control groups will never work because they have no true movement of supporters. "What we're doing here is the real deal" he said.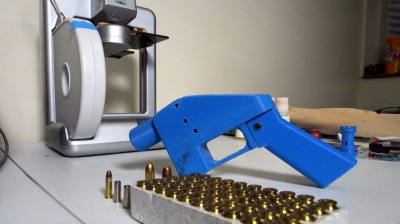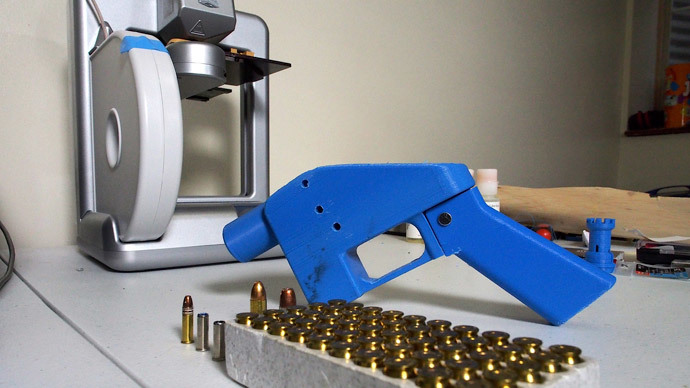 Printed Guns
Last May a Japanese man suspected of holding guns made with a 3D printer was detained in Japan – in the first such case in the country.
The suspect allegedly purchased a 3D printer for around ¥60,000 ($600) on the Internet, and downloaded the blueprints for making the guns from foreign websites. Broadcasters showed Imura being taken in for questioning.
Century21wire/RT