Paris on Terror Alert After 12 Killed in Attack on Charlie Hebdo newspaper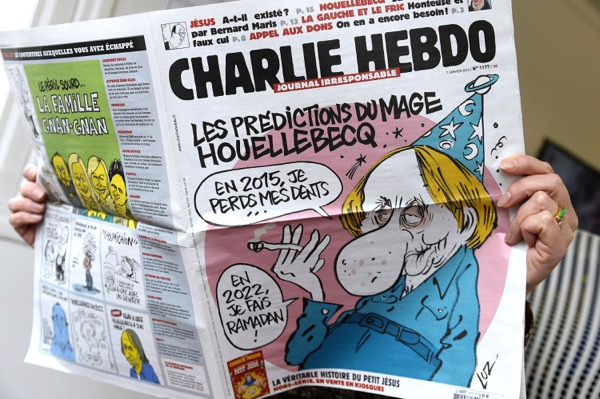 Paris was put on the highest terrorist alert after France's worst attack(video) in decades killed at least 12 people in shootings at the office of satirical weekly Charlie Hebdo in the city's east.
Four more victims are in critical condition and an additional 20 were injured, police said.
"France is in a state of shock after this terrorist attack," French PresidentFrancois Hollande told reporters. "An act of exceptional barbarity has been perpetrated against a newspaper, against liberty of expression, against journalists."
The attackers are on the run, he said. All potential terrorist targets have been put under the highest protection, Hollande said, adding that several possible incidents have been foiled in recent weeks.
France's last major terrorist violence came in 1995, when eight bombings struck public places between July and October, including the Saint Michel metro station in the heart of Paris. Bombs also exploded in the Place de l'Etoile in Paris. In all, eight were killed and about 200 were injured. They were blamed on an Algerian rebel group.
Most of today's victims were part of the magazine's newsroom, said Matthieu Lamarre, a spokesman for the Paris mayor's office. At least one of the dead is a police officer, he said.
Witnesses were cited by Europe 1 radio and Agence France-Presse as saying that two hooded people entered the offices of the magazine on rue Nicolas Appert, shooting at random and shouting "Allahu Akbar." Several journalists fled to the roof, I-Tele television reported.
Two People
Charlie Hebdo's cover this week is on "Submission," a book by Michel Houellebecq released today, which is sparking controversy with its depiction of a fictional France of the future led by an Islamic party and a Muslim president who bans women from the workplace.
Also today, the magazine on its Twitter account posted a cartoon depicting Islamic State Chief Abu Bakr al-Baghdadi.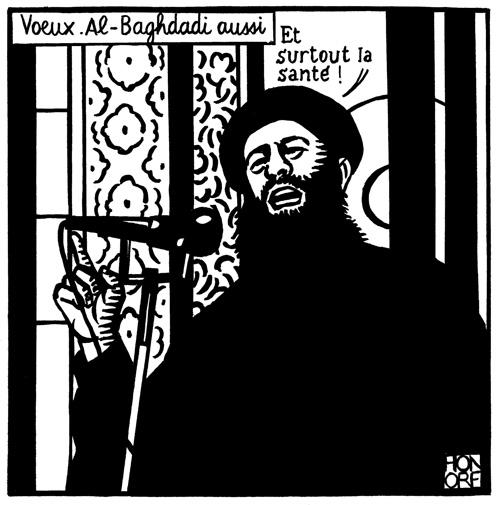 Charlie Hebdo's offices were firebombed in November 2011 after it published a special edition featuring the Prophet Mohammed as a "guest editor." The fire caused no injuries.
Charlie Hebdo is located in the 11th arrondissement of Paris, a former working-class neighborhood that is becoming increasingly fashionable. The glass-and-concrete four-story modern building is on a quiet street off leafy, broad Richard Lenoir boulevard, leading to the Bastille square.
The newspaper is owned by Les Editions Rotatives, a holding controlled by some of its reporters, and managers. Shareholders include cartoonist Cabu.
'Muslim Fraternity'
In his sixth novel, Houellebecq plays on fears that western societies are being inundated by the influence of Islam, a worry that this month drew thousands in anti-Islamist protests in Germany. In the novel, Houellebecq has the imaginary "Muslim Fraternity" party winning a presidential election in France against the nationalist, anti-immigration National Front.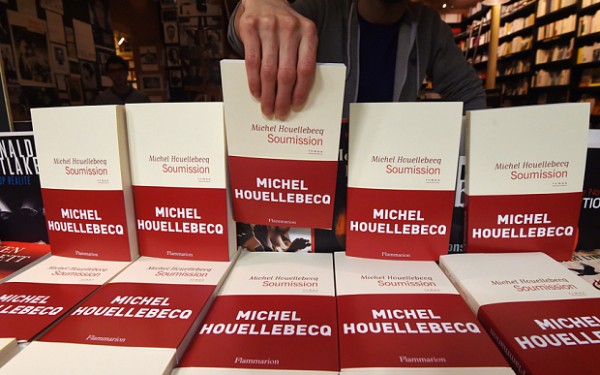 Houellebecq's book is set in France in 2022. It has the fictional Muslim Fraternity's chief, Mohammed Ben Abbes, beating National Front Leader Marine Le Pen, with Socialists, centrists, and Nicolas Sarkozy's UMP party rallying behind him to block the National Front.
Ben Abbes goes on to ban women in the workplace, advocates polygamy, pushes Islamic schools on the masses and imposes a conservative and religious vision of society. The French widely accept the new environment, hence the book's title.
Arab Descent
France is home to Europe's largest Muslim population, with more than 5 million people of the faith out of a population of about 65 million, a number that's been growing with children and grandchildren of 20th-century immigrants. Very few Muslims have reached top-level jobs in France, and second-and- third-generation French people of Arab descent say they often face discrimination.
The fear of Islamization has traction in France with opinion polls showing the anti-immigration Le Pen would lead in the first round of the 2017 presidential race. The party topped the Socialist party and UMP in last year's European elections. It may score well again in this year's local ballots.
Bloomberg