Thousands flee Kashmir as Pakistan and India go to war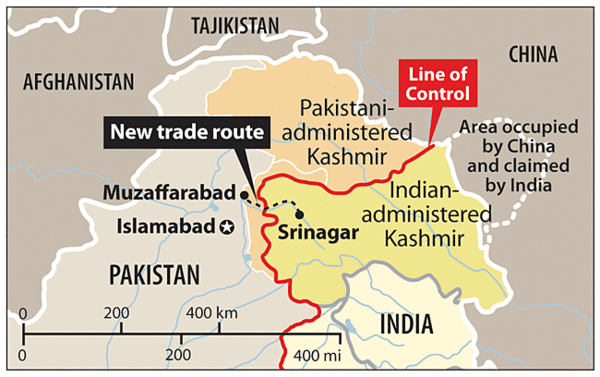 Thousands have fled the India-Pakistan border in disputed Kashmir, amid the most fearsome exchange of shelling between the two nations since they agreed to a ceasefire in 2003.
About 6,000 civilians left their homes on Monday, according to Reuters, following the flight of around 4,000 after the fighting erupted last week. At least 10 Indian and Pakistani civilians and soldiers have been killed so far in the violence, which comes days before US Secretary of State John Kerry is due to visit India.
"We had a narrow escape and there is a war-like situation," Sham Kumar, 54, from Sherpur village told Reuters. "Pakistani troops are using long-range weapons. It is the first time we have seen such intense shelling."
Sporadic shelling across the border in the last few years has now escalated to a new level, Sameer Patil of the Mumbai-based think-tank, Gateway House, told VICE News.
"In 2012 shelling resumed for the first time since the ceasefire, but it has been erratic. This is the most significant violence since then, definitely," said Patil, a former assistant director at the Indian National Security Council Secretariat in the Prime Minister's Office. "This is the first time that India has actually escalated the response when they have been shelled, instead of returning fire in-kind. This is a big difference, that has then led the Pakistanis into an escalation."
"I don't know the exact area of shelling," he said, "but I have heard reports that up to 50 Indian outposts have come under fire. When you consider that each is two to three kilometers apart, this is a large area that requires significant coordinated bombardment."
Each side blames the other for breaking the ceasefire, which began with an exchange of fire between border guards on Friday night at a post around 12 miles (20 km) south of the Indian city of Jammu, in the state of Jammu and Kashmir.
A Pakistani military official said a 13-year-old girl was killed by "unprovoked fire" near the city of Sialkot, and an 8-year-old was wounded in another area, while Rakesh Sharma, chief of the Indian military in the Jammu region, claimed a woman was killed in the Samba district.
The Kashmir region has been the subject of a territorial dispute between India and Pakistan since the two countries separated after independence in 1948. Two wars have since been fought over Kashmir, but it remains divided. It has also been the scene of significant violence over the years between its Muslim and Hindu communities.
Despite the history of political turmoil, the cause of the latest violence remains unclear. Many in India believe Pakistan's security forces are using the shelling to act as cover for Islamic terrorists to infiltrate across the border.
"It absolutely makes sense," said Patil. "It's currently winter, so the north of Kashmir is under heavy snow. It is impossible to move across the border. Jammu is on the southern side of the border, and would be much easier."
"We believe there is a high level of co-operation between Pakistan's security forces and terror groups, where they are even telling them where the Indian outposts are on the border and when to attempt to infiltrate."
Such claims have been repeatedly rejected by Pakistani officials, but they nonetheless represent the thinking of many Indian policy makers. Pakistani's Inter-Services Intelligence (ISI) has been the subject of frequent accusations from elsewhere in the international community of collaboration with militant groups to advance its foreign policy aims.
Earlier in the summer, there were hopes relations would improve as India's new Prime Minister Narendra Modi invited his Pakistani counterpart Nawaz Sharif to his inauguration. But ties deteriorated when in August, India called off peace talks after Pakistani envoys met with Kashmiri separatists.
The year's most violent confrontation took place in October, when 16 people, nine Pakistanis and seven Indians, were killed during a crossfire that lasted several days.
Both US president Barack Obama, and US Secretary of State John Kerry are due to visit India this month. Kerry is due to speak at the Vibrant Gujarat Summit, held between January 11 and 13 at the furthest end of the Pakistani border from Kashmir, and it has been reported that he is then planning to visit Islamabad. Obama will be the chief guest at India's January 26 Republic Day celebrations.
Pakistan is a major recipient of US aid, largely under the auspices of counter-terrorism initiatives. In 2013 the Obama administration handed over $1.2 billion in aid for Islamabad, under a four-year plan authored by Kerry which requires Pakistan to actively counter groups such as the Taliban and al Qaeda. Critics of the arrangement have complained that the country has not made sufficient progress in doing so, even as it struggles with its own internal Taliban insurgency. However recent Taliban attacks such as the Peshawar school massacre last month have prompted the government to launch a major offensive against the militants.
Both Kerry and Obama will come under pressure from the Indian leadership to use its influence with the Pakistani government on the Kashmir issue.
"Obviously the US has to act on its own interest," said Patil, "and there is some understanding within India that the US-Pakistan relationship is important. But the Indian side will certainly be raising with Kerry that they should at least be demanding answers, and getting commitments from Pakistan on cross-border violence."
News.Vice.com