Pope Francis names 20 new cardinals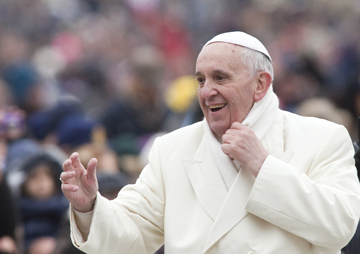 Pope Francis on Sunday named 20 new cardinals from around the world to the elite group at the top of the Roman Catholic hierarchy, including 15 who can enter a conclave to choose his successor after his death or resignation.
It is the second time the 78-year-old Francis has put his stamp on the direction he wants the 1.2-billion-member Church to move in, having named 19 cardinals a year ago. The new "princes" of the Church will be installed at a ceremony known as a consistory at the Vatican on Feb. 14.
The 15 new "cardinal electors" – those aged under 80 – come from Italy, France, Portugal, Ethiopia, New Zealand, Vietnam, Mexico, Myanmar, Thailand, Uruguay, Spain, Panama, Cape Verde and Tonga.
Nine of them come from countries in the developing world.
It was the first time cardinals from Myanmar, Tonga and Cape Verde were appointed, a Vatican spokesman said, reflecting Francis' desire for the College of Cardinals to represent the universal nature of the Church.
Spokesman Father Federico Lombardi said the pope "does not feel chained to the tradition" that major cities around the world should automatically have cardinals to lead them.
Only one of the 15 cardinal electors is from the Curia, the Vatican's central administration.
The five new cardinals over 80 will not be allowed to enter a conclave. They were given the title to thank them for long years of service to the Church.
Francis bent a Church rule that puts a cap of 120 on the number of cardinal electors, deciding to bringing the total of those aged under 80 to 125. With Sunday's appointments, he has now named 31 of them, a quarter of the total.
Reuters