The Interview: Sony's North Korea film to be screened in US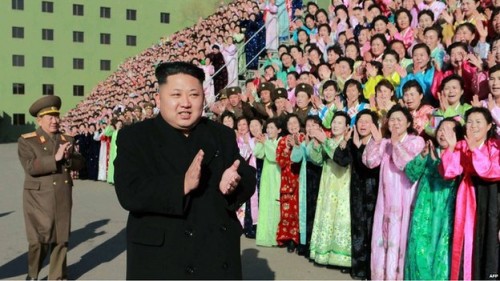 A comedy film about North Korea that had its Christmas Day launch cancelled after a major cyber attack and threats against US cinema-goers is now to get a limited theatrical release, Sony says.
The Interview will be shown in some independent US cinemas on Thursday.
Sony Chairman Michael Lynton said he was "excited" that the comedy, about a plot to assassinate North Korean leader Kim Jong-un, would now be seen.
Two cinemas in Atlanta and Austin have already revealed screenings.
They said via social media that Sony Pictures had authorised them to show the film, which has been at the centre of escalating tensions between the US and North Korea.
"Breaking news," tweeted Tim League, founder of the Alamo Drafthouse cinema in Austin.
"Sony has authorized screenings of THE INTERVIEW on Christmas Day. We are making shows available within the hour."
'Freedom prevailed'
The White House welcomed the development, with a spokesman saying that President Barack Obama applauded Sony's decision and that the US was a country that "believes in free speech".
Seth Rogen, who directed and starred in the film, tweeted: "The people have spoken! Freedom has prevailed! Sony didn't give up!"
Sony had previously announced that the film's release would be pulled completely, following a hacking attack on the company and threats against cinema chains that planned to screen the film.
That decision drew criticism in Hollywood, with some calling it an attack on the freedom of expression.
Mr Obama had also called Sony's initial decision to pull the film "a mistake".
'First step'
Major movie chains in the US are thought unlikely to take part in the release at this stage.
Mr Lynton said: "We are continuing our efforts to secure more platforms and more theatres so this movie can reach the largest possible audience."
He also said he "hoped it would be the first step of the film's release".
The company has yet to reveal further details of its release plans, but there is also speculation that video on-demand (VOD) will be offered as part of the package.
Sony's North Korean comedy The Interview, starring James Franco and Seth Rogen, is a classic fish-out-of-water caper – with the odd twist that the fish end up assassinating a world leader.
But is it any good? For now, you can only form an opinion by watching the trailer. But critics who saw the movie in advance had mixed feelings, to say the least.
___________________________________________________
Sony's decision to show the film came hours after North Korea suffered a severe internet outage that effectively shut down its internet services for 10 hours.
It was not clear what caused this. North Korean officials have not commented on the issue.
The country's internet services appeared to suffer a second outage on Tuesday afternoon, but they were restored in under an hour, an internet monitoring company said.
US officials have declined to comment on who might have been responsible for the shutdown.
Mr Obama has previously vowed to respond to a hacking attack on Sony, which led to sensitive data and unreleased film material being leaked.
The US said an FBI investigation showed that North Korea was responsible for the cyber attack on Sony – claims denied by North Korea.
___________________________________________________
The Interview saga
The Interview features James Franco and Seth Rogen as two journalists granted an audience with Mr Kim. The CIA then enlists the pair to assassinate him.
22 November: Sony computer systems hacked, exposing embarrassing emails and personal details about stars
7 December: North Korea denies accusations that it is behind the cyber-attack, but praises it as a "righteous deed"
16 December: "Guardians of Peace" hacker group threatens 9/11-type attack on cinemas showing film; New York premiere cancelled
17 December: Leading US cinema groups say they will not screen film; Sony cancels Christmas Day release
19 December: FBI concludes North Korea orchestrated hack; President Obama calls Sony cancellation "a mistake"
20 December: North Korea proposes joint inquiry with US into hacks, rejected by the US
22 December: North Korea suffers a severe internet outage
23 December: Sony bosses appear to change their minds, saying they will now give The Interview a limited Christmas Day release
BBC