Bush rushed to hospital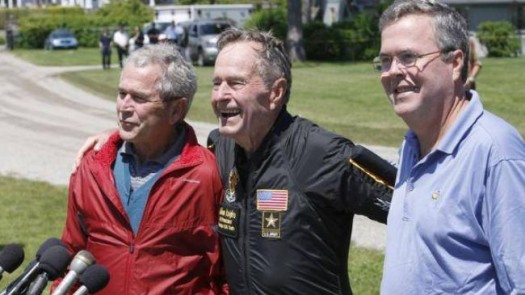 Former President George H.W. Bush remains in the hospital Wednesday morning after he was admitted to the facility the night before for what a spokesman called a "shortness of breath."
Bush, 90, was taken by ambulance to Houston Methodist Hospital Tuesday evening as a precaution. The former president will remain there under observation.
"Everything I'm hearing is positive," said Jim McGrath, Bush spokesman. "I think they're going to be very cautious with him. We're hoping it's a very Merry Christmas on the medical front for everyone here."
In late 2012, he was admitted to the hospital with a bronchitis-related cough. Bush was released Nov. 19 but returned the day after Thanksgiving with a persistent cough. He was later admitted to intensive care with a stubborn fever. Bush spent that Christmas at the hospital, only leaving intensive care on Dec. 30.
He spent nearly two months at the hospital until his release in mid-January 2013.
The oldest former president, Bush has health problems that have forced him in recent years to rely on a wheelchair or motorized scooter to get around.
Even so, it didn't stop the former World War II dive bomber — at one time the youngest pilot in the Navy — from marking his 90th birthday in June with a parachute jump at his family's summer home in Kennebunkport, Maine.
The nation's 41st president made the historic jump from a helicopter at about 6,000 feet. He was connected by a harness to a member of the Army's Golden Knights parachute demonstration team.
Bush landed near a church and was quickly surrounded by friends and family.
It was a far cry from his first parachute jump, in September 1944, after Bush's TBM Avenger torpedo bomber was shot down during a raid on the island of Chihi-jima in the Pacific.
He was eventually rescued by a submarine hunting for other downed naval aviators.
Bush also marked his 75th, 80th, and 85th birthdays by skydiving — feats he began only after leaving the White House.
Before Bush's hospitalization was announced, former first lady Barbara Bush joined Texas All Pro defensive end J.J. Watt to read the holiday classic "Twas the Night Before Christmas" before a Hobby Center performance of the "Radio City Christmas Spectacular."
The White House told the Associated Press that President Obama, who is vacationing in Hawaii, has been notified about Bush.
White House spokesman Eric Schultz said the president and first lady "send their good wishes" to the Bush family.
Houston Chonicle