An armed man dressed as Santa shoots two men in fight over Mrs Claus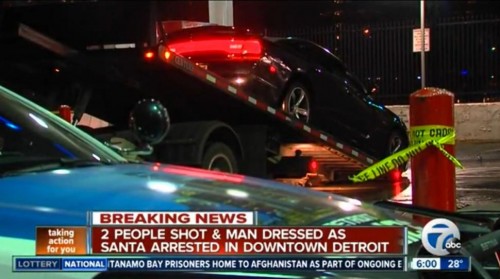 Detroit, MI – The ringing of gunfire filled the air as police chased down Santa Claus after shooting a pair.
A man dressed as Santa shot two men after an early-morning confrontation at a Detroit gas station and was run down on foot by off-duty cops who responded to the gunfire, The Detroit News reported.
An argument over a woman quickly escalated into gunplay at a Speedway gas station on Jefferson Ave. just off I-375 in downtown Detroit at 1:45 a.m. Sunday, police said.
"Two men were arguing outside the store. They started shoving each other. As they were arguing, the guy in the Santa Claus outfit started shooting," a witness told WXYZ. "It was crazy down here."
When two men turned to go to their car after a shoving match, the man in the Santa outfit told police he opened fire because he believed they were going to get a weapon. One victim was shot in the chest and another in the hand. Both are expected to recover, police said.
"Apparently, there was an argument over Santa's girlfriend — Mrs. Claus," Detroit Police Officer Adam Madera told The Detroit News.
Two off-duty officers got into a foot chase with Santa, which ended when the unidentified man was arrested three blocks away in view of stunned bystanders outside St. Andrews Hall, a popular music venue.
The hip-hop, punk rockers Kottonmouth Kings, who were playing St. Andrews Hall, posted a photo of the bizarre arrest on Facebook.
"Crazy Santa goes on shooting spree outside Big Ballers Event in Detroit," the musicians wrote. "Our prayers are with victims."
NY Daily News