Iranian Speaker Larijani in Syria on way to Lebanon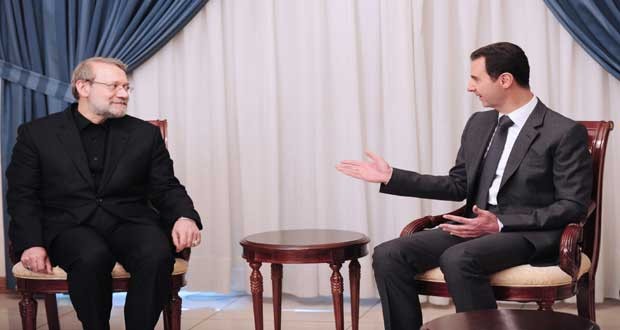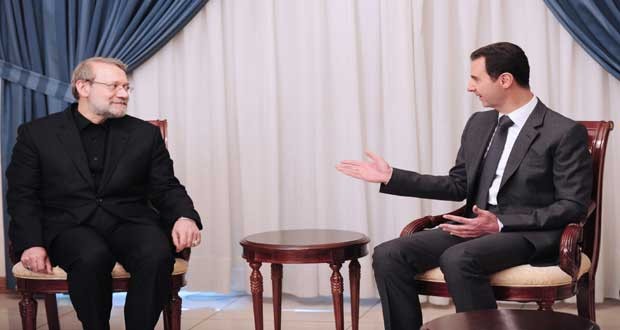 Speaker of the Iranian Shura Council Ali Larijani arrival on Sunday   at the Damascus Airport where he was received by  his  Syrian counterpart Mohammad Jihad al-Laham   .  He stressed  upon arrival that the solution to the crisis in Syria should be political and built on democratic bases, according to a report by Syrian SANA news agency
Larijani said in a statement to journalists that his visit to Syria aims at providing support to the Syrian Government and people, in addition to discussing the current situations as well as consulting with Syrian officials with regard to solving the standing political issues, SANA added
Larrijani  , who is on  an official four-day visit that includes  Lebanon and Iraq in addition to Syria reiterated his country's backing to any solution that will end the Syrian conflict.
He added that Tehran is in favor of Russia's efforts to restart peace talks on Syria by hosting a meeting between the rival sides (the government and the opposition) in Moscow in January.
Larijani , who is being accompanied by Iranian Assistant Foreign Minister for Arab and African Affairs Hossein Amir Abdullahian and a delegation from the Iranian Shura Council will head to Lebanon  from Damascus  after meeting Syrian President Bashar Al-Assad and Syrian Prime Minister Wael Nader Al-Halqi.
Assad stressed on Sunday the Syrians' resolve to eradicate terrorism and extremist thoughts that are menacing the region and the world,  during his meeting with  Larijani and the accompanying Iranian delegation. Assad  also affirmed that the Syrians are also keen to proceed with and boost national reconciliations across Syria on a parallel track with combating terrorism, SANA added
The Syrian regime refers to the rebels who are trying to  topple Assad as " terrorists "
In Lebanon , the Iranian official will reportedly hold talks with his Lebanese counterpart Speaker Nabih Berri, Prime Minister Tammam Salam and  Hezbollah  chief Hassan Nasrallah and  other key officials according to Lebanese media  .
Larijani visit is expected to pave the way for dialogue  talks between the Future Movement and Hezbollah, which will be held starting  December 29  reported the daily An Nahar on Sunday.
Political sources told An Nahar that the Iranian official will arrive in Beirut on Monday and that his talks will clarify Tehran's position on pending Lebanese issues, particularly Sunni-Shiite dialogue and the presidential elections.
The first round of the Future Movement-Hezbollah talks are set to be held at Speaker Nabih Berri's Ain al-Tinah residence, An Nahar added.
The Future Movement- will be represented by Nader Hariri ( advisor of former PM Saad Hariri) , Interior Minister Nouhad al-Mashnouq, and MP Samir al-Jisr, while Hezbollah will be represented  by  Hussein al-Khalil( advisor of Hezbollah chief Sayyed Hassan Nasrallah)  , State Minister for Parliamentary Affair Mohammed Fneish, and a third official, whose identity was not disclosed.
Berri and his aide Finance Minister Ali Hassan Khalil will attend the dialogue according to An Nahar