Carter: Obama's Cuba decision showed "good wisdom" and "political courage"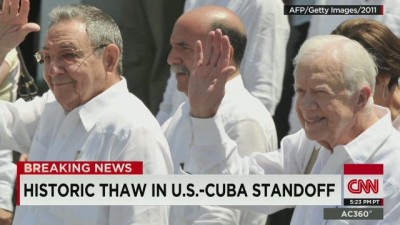 Former President Jimmy Carter lauded the decision to normalize diplomatic relations with and ease sanctions imposed on Cuba, steps he said would benefit the Cuban people and not the country's autocratic rulers.
Carter said he is "very proud and grateful" of President Barack Obama's decision to change the dynamic of the U.S.-Cuba relationship, which Carter said showed "such good wisdom" and "political courage."
"These are the kind of things that have long been overdue," Carter said Thursday on MSNBC. "There's no doubt that the beneficiaries of this will be the Cuban people."
Obama settled a landmark deal to normalize relations between the two countries in a phone call with Cuban President Raul Castro this week. The call between the two leaders capped more than a year of secret discussions to secure the release of American aid worker Alan Gross. Obama released three convicted Cuban spies, but secured the release of 53 political prisoners held in Cuba, a Cuban national who spied for the U.S. and won concessions from Castro to free up Internet access in Cuba.
Carter jumped to Obama's defense following a chorus of attacks from Republicans led by Sen. Marco Rubio of Florida who say Obama's decision amounted to appeasement of a totalitarian government that will lead to anything but democratization.
"It is a lifeline for the Castro regime that will allow them to become more profitable … and allow them to become a more permanent fixture," Rubio, the son of Cuban immigrants, said Wednesday on CNN. "The embargo is leverage, these sanctions are leverage."
But Carter, who has traveled to Cuba several times in recent years, said the next move should instead be to lift the embargo against Cuba, which the President cannot do without Congressional approval.
"They've been living not only under a dictatorship that has deprived them of basic rights, but also they have been living under a United States imposed embargo of sanctions that has deprived them from equal trade with their nearest neighbor in the world," Carter said. "I know the Castro brothers quite well, and I think this will not benefit them, it will benefit the people of Cuba."
Carter added that Obama's decisions to ease the trade embargo — which will include allowing the export of telecommunications equipment to Cuba and more travel authorizations to the country — will help open up Cuban society and foster democracy.
"For a long time I've said that the best way to bring democracy and freedom to Cuba … is to have full opportunity for Americans to go there, to trade, to invest, to let the Cuban people see clearly that we're not the villains in their economic plight," Carter said.
CNN