Obama to Sign Russia Sanctions Legislation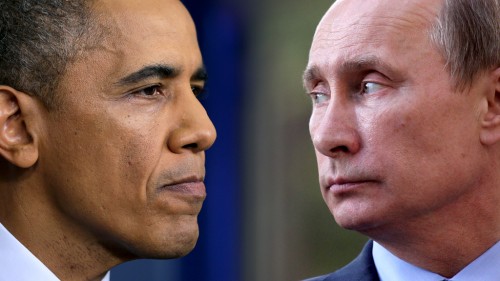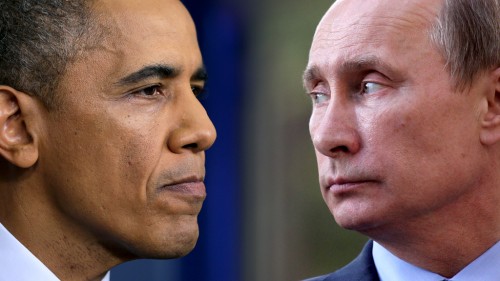 President Barack Obama will sign legislation slapping new sanctions on Russia and providing weapons and other aid to Ukraine despite White House concerns that military assistance will further escalate the conflict, the White House said Tuesday.
White House spokesman Josh Earnest said Obama continues to have misgivings about the bill, which cleared Congress with overwhelming support, but believes the legislation still gives him the flexibility he needs.
"The bite on the Russian economy is only becoming stronger," Earnest said.
Word that Obama would sign the measure comes as Russia grapples with a currency crisis driven both by the impact of previous sanctions and a drop in the price of oil.
Republicans and Democrats, including House Speaker John Boehner, R-Ohio, had called on Obama to sign the measure immediately.
The bill would require the president to impose penalties on state-owned arms dealer Rosoboronexport and other Russian defense companies tied to unrest in Ukraine, Moldova, Georgia and Syria. The sanctions would be extended to individuals and entities that help the companies.
"We do have concerns about that legislation because while it preserves flexibility it does send a confusing message to our allies because it includes some sanctions language that does not reflect the consultations that are ongoing," Earnest said.
The bill would give the president the authority to provide lethal and nonlethal military assistance to Ukraine. This includes anti-tank weapons, counter-artillery radar and tactical surveillance drones. The bill authorizes $350 million over two years to cover the cost.
Russia annexed Crimea earlier this year and has given support to pro-Russian rebels in eastern Ukraine, angering Western nations.
Sen. Kelly Ayotte, R-N.H., a member of the Armed Services Committee, said the question is whether Obama stands with the people of Ukraine "in the face of blatant Russian aggression."
"A continued tepid response to Putin's invasion of Ukraine will only invite additional aggression from the Kremlin, with even more serious consequences for the United States and our allies," Ayotte said in a statement.
The bill on sanctions and military aid was a rare example of unanimity in a divided Congress as the measure passed the House and Senate by voice vote.
Sen. Bob Menendez, D-N.J., chairman of the Foreign Relations Committee, said, "The territorial integrity of Ukraine must be restored and President Putin must understand that his destabilizing actions have serious and profound consequences for his country."
Speaking in London on Tuesday, Secretary of State John Kerry said everyone has watched the plunge of the ruble in recent days and that the U.S.-European sanctions are intended to make clear to Russia the costs for annexing Crimea and supporting separatists in eastern Ukraine.
"I don't think that what is happening is just related to the sanctions," Kerry said. "I think it is much broader, more complicated than that. It has to do with other issues with respect to the Russian economy, and oil prices, obviously, have also played a significant role in this. So there are a lot of combined factors."
Kerry, who met Monday with Russia's foreign minister in Rome, said U.S. sanctions were designed to lead Putin into making different choices.
"These sanctions could have been lifted months ago. These sanctions could be lifted in a matter of weeks or days, depending on the choices that President Putin takes," he told reporters.
Russia, Kerry said, has made "constructive" moves in recent days, citing the withdrawal of some personnel.
"Our hope is that in the days ahead we can get a clear, defined path by all parties, where everybody understands what each is doing and living up to agreements and in moving to de-escalate this situation," he said. "That has always been our goal. And I'm confident that as rapidly as that can happen, you will see Europe and the United States respond with respect to the sanctions that are in place today."
Kerry did not address the legislation.
ABC/AP