Terror in Sydney ends as commandos storm Lindt cafe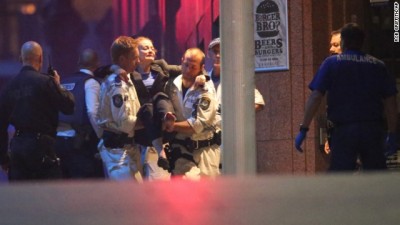 The heart of Sydney, Australia, is currently in lockdown, as a siege unfolds at a downtown cafe. Australian commandos have stormed a cafe in Sydney, ending a 16-hour siege by a gunman identified as an Iranian refugee who took dozens of hostages.
Reports are still developing, but here's what we know so far: Police are responding to a situation at the Lindt Cafe in Martin Place, a central plaza in the city surrounded by banks and law firms, and not far from the state parliament buildings and the Sydney Opera House.Paramedics carrying stretchers raced towards the cafe moments after the commandos entered the building. Several people were injured. Unconfirmed local reports said two people, including the gunman died. The centre of the city has been in lockdown since the gunman seized the hostages early on Monday morning. Early in the siege, hostages were forced to hold up a black Islamic banner at the window. The cafe is located in Martin Place, a busy shopping area in Sydney's financial district.
The number of hostages taken have not been confirmed. Channel Seven, a TV station with studios and offices in Martin Place, is reporting police sources as saying there are 13 people being held. The number of hostage-takers has also not been confirmed.
Twitter users have posted images of people, apparently hostages, with their hands against the windows of the cafe and holding up a black flag with Arabic writing on it. Guardian Australia is reporting the flag reads, "There is no god but the God, Muhammad is the messenger of God." It is not the Islamic State flag. Large parts of the area have been cordoned off.
"The whole moment seemed to begin by the escape by our count of six or seven hostages; they ran out from the right-hand side of the cafe and flew down the steps and into the arms of the waiting police," Channel 7 reporter Chris Reason said.
"At that point there were a couple of minutes of silence, a police unit moved in, we could see them in dark uniforms, night-vision goggles on, looking toward the door. There was a shot fired — we think that at that point that it was the gunman firing a shot. We heard from one police officer saying that a hostage was down and at that point the police moved in," Reason said.
"We saw a lot of explosive material — flash bangs as they're called, stun grenades to try to disrupt and startle the gunman as police units moved in from both sides of the cafe to try to get him before he could do any further damage."
Strong and Powerful Ideology Drives Suspect to Terror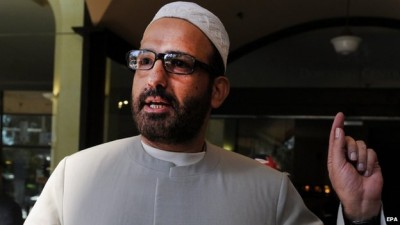 Man Haron Monis is the lone suspect. The self-styled Muslim cleric was born in Iran and sought political asylum in Australia in 1996.
He is well known to the Australian police and is currently on bail for being an accessory to the murder of his ex-wife.
He is also facing more than 40 sexual and indecent assault charges.
These relate to time allegedly spent as a self-proclaimed "spiritual healer" who dealt with so-called black magic at a premises in western Sydney, according to the Sydney Morning Herald.
Monis' former lawyer, Manny Conditsis, told ABC News that Monis was an isolated figure.
"His ideology is just so strong and so powerful that it clouds his vision for common sense and objectiveness," he said.
Mr Conditsis, who represented Monis last year when he was charged with being accessory to the murder of ex-wife Noleen Hayson Pal, said he thought the suspect might feel "he's got nothing to lose".
"Hence participating in something as desperate and outrageous as this," he said.
Injuries Mount
Live footage from the scene later showed heavily armed police running toward the Lindt Chocolate Cafe before at least four people were carried away on stretchers.
Channel 7 reporter Sean Berry said the scene had been quiet for several hours before police swarmed the area.
"All of a sudden, gunfire, heavily armed police officers — police en masse — and those hostages (were) beginning to be brought out," he said.
On any ordinary workday, the scene in Sydney would have been packed with people crisscrossing Martin Place on their way to work, home and shops.
But this week before Christmas, the inner-city streets fell silent.
"It is eerily quiet for the center of the city, which is normally humming with traffic and pedestrians. … People would be normally walking the streets. They've roped off several blocks around Martin Place," said CNN's Anna Coren, who was about a block from the scene.
Martin Place is a paved traffic-free zone, a pedestrian-friendly promenade a few blocks from the ferry terminal at Sydney Harbor. It's where people go to meet, have coffee and catch a train.
The hostage situation follows dozens of police terror raids in the city that have strained relations with the local Muslim community.
Dozens of attacks have been reported on Muslim targets, including mosques and women wearing the hijab.
Amid reports that as many as 100 Australians had left the country to support ISIS' quest to create a so-called Islamic State, authorities introduced tough new terror laws.
The new regulations give authorities the power to imprison people for "advocating terrorism." They also criminalize travel to areas deemed by Australia's foreign minister as "no-go" zones, and impose stiff penalties for Australian citizens who leave the country to engage in foreign wars.
BBC, CNN