Hezbollah, FPM won't allow Muslim Scholars to mediate Hostages Crisis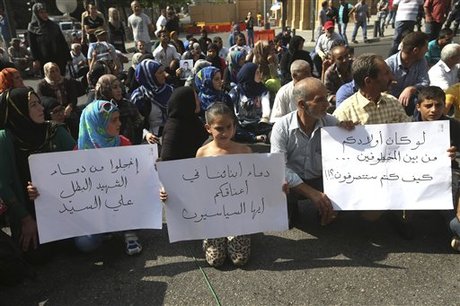 Hezbollah and its ally the Free Patriotic Movement  are opposed  to tasking the Muslim Scholars Committee with negotiating the release of Lebanese soldiers and policemen taken hostage by Islamist gunmen, according to a report   by  the London based al-Hayat newspaper .
Sources told the daily  that Hezbollah  will not make public its rejection  to tasking the Muslim Scholars Committee with negotiating the release of Lebanese hostages to avoid a "sectarian tension."
This development comes after the families of Lebanese soldiers and policemen  captured by the Islamic State jihadist group and the Al Qaeda-linked Al-Nusra Front asked the Muslim Scholars Committee to mediate in  the the talks aimed at securing their relatives' release.
The National News Agency (NNA) reported last  Monday that the request was made following a Qatari Foreign Ministry statement of the previous day saying that its own mediation efforts had failed and was at an end.
The Qataris withdrew after abducted Lebanese policeman Ali Bazal was murdered by the Al Nusra Front.
However, the  Muslim scholars called on the state to officially task them in order to follow up the case.
The abductors  are holding 25 soldiers and policemen taken captive in August during clashes with the Lebanese army in the country's northeastern Arsal area.
The Families of the hostages met Saturday with  Progressive Socialist Party leader MP Walid Jumblatt, who has repeatedly called on the government to accept a swap deal to free the servicemen.
The families tasked Jumblatt with the negotiations, calling on Prime Minister Tammam Salam to swiftly resolve the case.
The Muslim Scholars Committee, a gathering of Salafist Sheikhs, brokered a cease-fire that ended five days of clashes between the Army and militants from ISIS and the Nusra Front who overran Arsal in August.
Rally outside the Grand Serail
A rally was held outside the Grand Serail palace ( the government headquarters)   in downtown Beirut in solidarity with the families of the captive servicemen after the news  circulated that  al-Qaida-affiliate al-Nusra Front  appointed Shiekh Wissam al-Masri  as the new negotiator.
The families   expressed hope that  Health Minister Wael Abu Faour  will be able to end the abduction ordeal.
"We are hopeful that you could end the case and heal our wounds," the families said in a statement.
Sheikh Abbas Zogheib , a Shiite cleric called on the cabinet to assume its responsibilities immediately.
"If this government is incapable of assuming its responsibilities then it should resign ," he told gatherers.
A squabble occurred during the rally  when Free Patriotic Movement MP Naji Gharios tried  to make his speech.
Several people demanded him to step down from the podium.
However, the fuss ended swiftly.
"The government is responsible for the case of the kidnapped soldiers, which shouldn't be  discussed publicly," Gharious stressed, even though  FPM reportedly  has been rejecting  the state's involvement in a prisoners swap with al-Nusra Front and the Islamic State group.