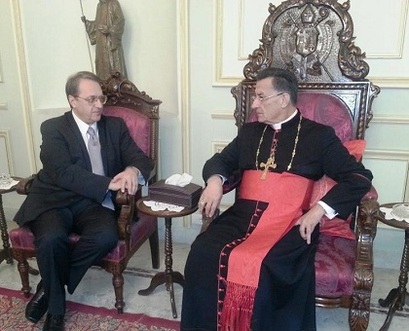 Beirut, Lebanon- Visiting Russian Deputy Foreign Minister Mikhail Bogdanov stressed Friday that Moscow is seeking "accord and comprehensive national dialogue that respects the interests and rights in Lebanon  and Syria."
Bogdanov who arrived in Beirut Thursday night after Syria visit, resumed Friday talks with Lebanese officials on the presidential impasse and met with Maronite Patriarch Beshara al-Rahi in Bkirki, Xinhua reported.
He said following the meeting that "we held deep and detailed talks on the regional developments and the conditions in Lebanon," stressing that it was "in Lebanon and the region`s interest to elect a president as soon as possible."
Lebanon has been without a president since May 25 when the 6-year term of former president Michel Suleiman ended.
The parliament has failed in 16 consecutive times since April to convene to elect a new president because the lack of the constitutionally required quorum.
The Russian official then  headed to Maarab  and held talks with Lebanese Forces chief Samir Geagea who said neither the Russian envoy nor a French official who had visited Beirut have proposed presidential candidate names.
Bogdanov also went toIn Bnashii and  discussed   with the Marada Movement leader MP Suleiman Franjieh all the current issues, including the election of a president in Lebanon, the developments in the entire region, and the Syrian crisis.
Moscow is seeking "accord and comprehensive national dialogue that respects interests and rights in Lebanon and Syria, together with its friends in Syria and Lebanon," the Russian envoy added.
Asked whether he sensed willingness to engage in dialogue by the parties in Lebanon, Bogdanov said: "To a certain extent."
This is a possible reference to the fact that Russia may find it difficult to play the role of a mediator since it  has been supporting the Syrian regime , ever since the uprising started in March 2011.  While March 8  politicians support the Syrian regime , the March 14 politicians  support the Syrian opposition.
The diplomat was in Lebanon last week during which he met with politicians from the rival parties, including Hezbollah Secretary General Sayyed Hassan Nasrallah.
Talks focused on the presidential deadlock, the Syrian crisis and regional developments.
He later traveled to Turkey for meetings with Syrian opposition leaders and then to Syria where he met Wednesday with President Bashar Assad.
The Russian envoy said he discussed with Assad Moscow's efforts to bring all sides in Syria's civil war to the negotiating table.
Zee News/agencies