Berri accuses Israel of stealing gas from Lebanon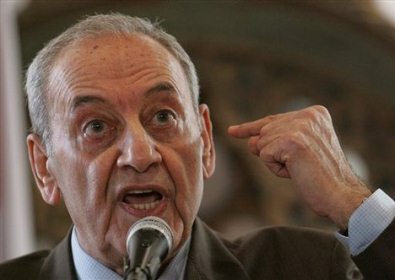 A senior Lebanese politician has accused Israel of stealing Lebanon's underwater gas resources according to a report by the Lebanese al-Akhbar newspaper.
Parliamentary Speaker Nabih Berri said in comments published on Monday, that Israel has started siphoning gas from one of Lebanon's maritime reserves in an area close to its southern border with Israel.
Berri said his information was "almost confirmed," and originated from an unnamed "international scientist."
Lebanon has been slow to exploit its maritime resources, compared with other eastern Mediterranean countries. Israel, Cyprus and Turkey are all much more advanced in drilling for oil and gas.
Berri said that the Lebanese government had been "careless" in dealing with its gas resources and vowed to "do everything I can to activate this file by the beginning of the new year."
A zone of some 854 square kilometers of gas and oil worth billions of dollars is disputed by Lebanon and Israel.
In March 2010, the U.S. Geological Survey estimated a mean of 1.7 billion barrels of recoverable oil and a mean of 34.5 trillion cubic meters of recoverable gas in the Levant Basin in the eastern Mediterranean, which includes the territorial waters of Lebanon, Israel, Syria and Cyprus.