2 Hezbollah members killed by Israeli strikes near Damascus, report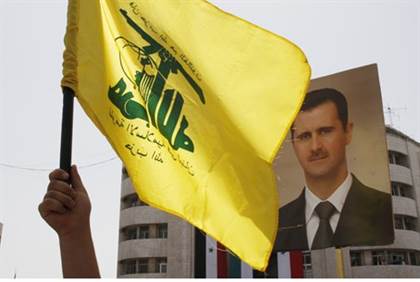 Two members of the Lebanese militant group Hezbollah were killed by strikes allegedly launched by Israel on Sunday.
The Hezbollah members died in a strike that hit a suburb near the capital Damascus on Sunday, Sky News reported on Monday.
A second attack hit targets near Syria's main airport, Damascus International Airport, according to reports broadcast on Syrian state television on Sunday evening.
In the wake of the strikes, Russia called on Israel to offer an explanation.
"Moscow is deeply worried by this dangerous development, the circumstances of which demand an explanation," Russian foreign ministry spokesman Alexander Lukashevich told Haaretz.
Lukaschevich said Russia has sent a letter to the UN to complain about Israel's "aggressive action".
Israel has launched a series of air strikes inside Syria since the outbreak of the country's armed uprising in 2011, including raids reportedly targeting Iranian rockets bound for Lebanon's Hezbollah.
Israel has yet to confirm or deny it is behind the air strikes, but the Syrian army reiterated its claim that the Jewish state is helping rebels fighting to oust President Bashar al-Assad.
"This direct aggression by Israel was carried out to help the terrorists in Syria, after our armed forces secured important victories in Deir Ezzor, Aleppo and elsewhere," the army said.
Sunday's air raids proved "Israel's direct support for terrorism in Syria," it said, using the government's oft-used term to refer to peaceful opponents, armed rebels and militants fighting in Syria.
However, analysts say the strikes are more likely related to tensions between Israel and Hezbolllah than to the Syrian civil war – though some Israeli opposition politicians on Monday accused Prime Minister Benjamin Netanyahu of inaugurating his election campaign with the bombing that hit Damascus International Airport and the nearby Dimas province on Sunday.
In earlier reports, Syrian officials said that the strikes caused damage, but that nobody was hurt. Both civilian and military aircraft operate at the airport, which lies southeast of Damascus near flashpoint areas including Eastern Ghouta, large parts of which are in rebel hands.
Later, the Syrian foreign ministry said it had asked UN Secretary General Ban Ki-moon and the UN Security Council to impose sanctions on Israel, describing the strikes as "a heinous crime against Syria's sovereignty", according to state news agency SANA.
The Britain-based Syrian Observatory for Human Rights, which monitors the conflict, said both of the targeted sites were used for military purposes.
"Both were military sites, and weapons were being stored there," Observatory director Rami Abdel Rahman told AFP.
Aleppo ceasefire talks
The strikes came as the UN announced talks with rebel leaders on a ceasefire in its war-battered second city of Aleppo – and hours ahead of an appeal by humanitarian organisations Monday for countries to take in around 180,000 refugees as the number of people fleeing the Syrian conflict continues to grow.
On Sunday, a spokesperson for UN envoy to Syria Staffan de Mistura said he will travel to Gaziantep soon to meet with rebel leaders from to discuss a possible freeze in fighting.
The spokesperson did not specify when exactly the talks would take place.
De Mistura has been pushing efforts for ceasefires in limited areas of Syria to lay the groundwork for peace talks to resolve the country's devastating civil war.
Speaking to AFP from Turkey, rebel leader Sobhi al-Rifai said: "We are ready for a meeting and for dialogue with anyone to discuss the Syrian issue."
But Rifai, who is part of major rebel umbrella organisation the Revolutionary Command Council, did not confirm whether his group or any other faction would meet the UN envoy.
Rebels in Aleppo also do not include among their ranks any militants from the al-Qaeda affiliate Al-Nusra Front, or from the Islamic State (IS) group.
Fresh humanitarian appeal
On Monday, more than 30 humanitarian groups launched an appeal for countries to take in some 180,000 refugees from Syria, with the UN refugee agency predicting that the number of people fleeing the fighting could rise to nearly 3.6 million by the end of 2015.
The Office of the UN High Commissioner for Refugees (UNHCR) said 3.2 million refugees were already listed in neighbouring countries after three years of fighting, with Turkey and Lebanon hosting more than a million each.
Elsewhere on Sunday, Syrian troops repelled an attack by militants from the IS group on a military airport in the eastern province of Deir Ezzor, the monitor said.
"Troops and pro-regime militia stopped the attack that Islamic State launched on the Deir Ezzor military airport," it said, adding that both sides suffered heavy losses in the fighting.
The militants had withdrawn to the edges of the base, a day after managing to seize a southeastern part of the complex.
The Observatory said more than 100 militants had been killed in fighting for the base since Wednesday, when they launched an operation to try to take the airport.
Pro-government forces also suffered heavy casualties, with some 59 troops killed, it said.
Middle East Eye