Execution of abducted soldier postponed as Lebanon cabinet mulls direct negotiations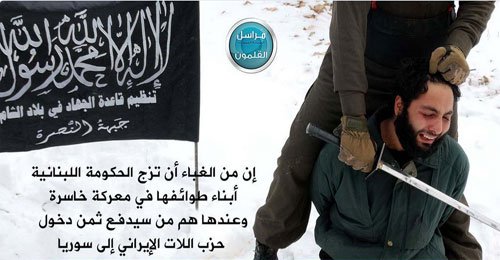 The al-Qaida-linked al-Nusra Front retracted  its decision on Friday to execute captive soldier Ali al-Bazzal  and the cabinet decided to have direct negotiations with the abductors .
Health Minister Wael Abou Faour confirmed al-Nusra decision, saying it has postponed the execution.
"The cabinet  stresses its serious efforts to resolve the case of captive servicemen through holding direct and immediate negotiations with the kidnappers and halting any action that may threaten their lives and safety,"Abou Faour  emphasized.
Conflicting reports circulated  Friday evening over the fate of  al-Bazzal as the General Security announced that the Qatari mediator will return to Lebanon "in the coming hours " to continue the negotiations
"The General Security communicated with the Qatari side, which informed General Security chief Major General Abbas Ibrahim that the Qatari mediator will return again to Lebanon in the coming hours,"  National News Agency reported.
"Following contacts and efforts by Ibrahim, al-Nusra Front retracted its threat to behead captive soldier al-Bazzal," NNA added.
Al-Nusra  threatened   on Thursday  to execute al-Bazzal  within 24 hours if the Lebanese government did not start what it called "serious negotiations."
It also called on the Lebanese authorities to release  Jumana Hmayyed, who was arrested near Arsal in February while driving a booby-trapped car that entered Lebanon from Syria's Yabrud region.
A number of soldiers and policemen were abducted from the northeastern border town of Arsal in August following clashes between the army and Islamist gunmen from Syria.
A few of them have since been released, three were executed, while the rest are still being held by the Islamic  State and al-Nusra Front  terror groups
The families of the captives have repeatedly expressed their anger with the cabinet for failing to resolve the case and have been  staging rallies  and blocking main roads across the country  to pressure the government to take more action.
The abductors  have been demanding the release of a number of Islamist terrorists  held in Roumieh prison in exchange for the captive soldiers and policemen.
Al-Joumhouria reported that judicial authorities have been working on speeding up the trials of the Islamist terrorists .