Russian delegation hails Lebanon as an ideal state in terms of coexistence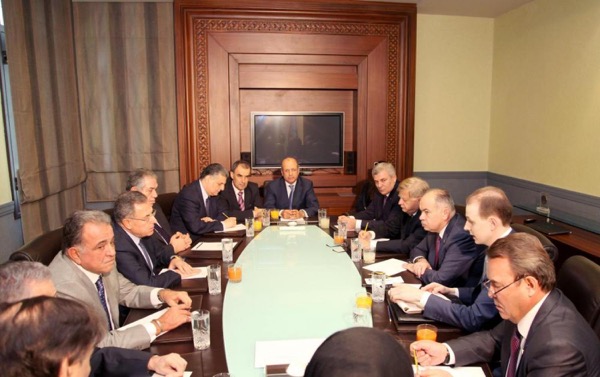 A Russian delegation Monday hailed Lebanon as an ideal state in terms of coexistence during a meeting with Grand Mufti Sheikh Abdel-Latif Derian.
"Lebanon is an ideal state in terms of coexistence between ethnic groups and sects," he said
"All countries in the world should study the Lebanese Republic's experience with regards to dealing and cooperating between spiritual and religious organizations and governmental bodies," Ilyas Umakhanov, the Deputy Chairman of the Russian Federal Council and Head of Pilgrimage Affairs of the government's Religious Affairs Commission said.
Umakhanov , who heads the delegation was accompanied by Russian Ambassador to Lebanon Alexander Zasypkin.
Umakhanov extended an invitation to Lebanon's grand mufti to visit Russia which is home to more than "150 ethnicities and over 20 million Muslims," he said.
Meeting with Future Movement
The delegation also met with the head of Future parliamentary bloc MP Fouad Siniora at Bayt-al Wasat in the presence of MPs Atef Majdalani, Farid Makari, Amine Wehbe, Ahmad Fatfat and Samir Jisr.
The talks reportedly dealt with the recent developments in Lebanon and the broader Arab region, as well as the relations between Russia and Lebanon.