'Greatest Privilege of My Life': Hagel said after resigning under pressure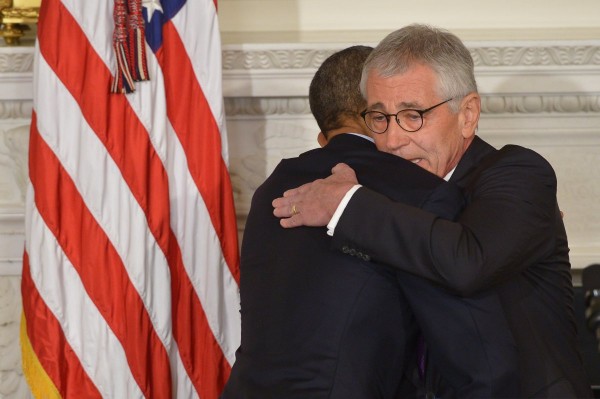 Defense Secretary Chuck Hagel has resigned under pressure amid criticism of the president's national security team on a series of global issues, including the threat posed by the militant group known as ISIS.
During a statement at the White House, President Barack Obama called Hagel "an exemplary Defense Secretary" and "a great friend of mine" who helped steer the military amid a time of great transition at the Pentagon.
"When it's mattered most behind closed doors, in the Oval Office, you've always given it to me straight. For that, I will always be grateful," Obama said, noting Hagel's willingness to take the job despite hailing from the Republican Party.
Hagel called serving in the post "the greatest privilege of my life."
In a separate written statement sent to Pentagon staff, Hagel said: "You should know I did not make this decision lightly. But after much discussion, the President and I agreed that now was the right time for new leadership here at the Pentagon."
But behind the scenes, the departure appeared to be less rosy. Senior defense officials told NBC News Monday that Hagel was forced to resign. Those officials said the White House lost confidence in the former Nebraska senator to carry out his role at the Pentagon.
According to one senior official, "He wasn't up to the job."
Another senior administration official said that Hagel has been discussing a departure from the White House "for several weeks."
"Over the past two years, Secretary Hagel helped manage an intense period of transition for the United States Armed Forces, including the drawdown in Afghanistan, the need to prepare our forces for future missions, and tough fiscal choices to keep our military strong and ready," the official said. "Over nearly two years, Secretary Hagel has been a steady hand, guiding our military through this transition, and helping us respond to challenges from ISIL to Ebola. In October, Secretary Hagel began speaking with the President about departing the Administration given the natural post-midterms transition time."
Multiple sources also said that Hagel was originally brought to the job to wind down the wars in Iraq and Afghanistan, but, as the fight against the Islamic State ramped up, he was not as well matched for the post.
"Rather than winding down two wars, we're winding up," said one source close to Hagel and top Pentagon officials.
In a statement, Arizona Republican Sen. John McCain suggested that Hagel had his own frustrations with Obama's team. "I know that Chuck was frustrated with aspects of the Administration's national security policy and decision-making process," he said. "His predecessors have spoken about the excessive micro-management they faced from the White House and how that made it more difficult to do their jobs successfully. Chuck's situation was no different."
A successor will be named "in short order," an official said, but Hagel will stay in the job until his replacement is confirmed.
That replacement will not be named today, administration sources said, but possible nominees include: Rhode Island Sen. Jack Reed, former Undersecretary of Defense Michele Flournoy (who would be the first female Defense Secretary) and former Deputy Secretary of Defense Ashton B Carter.
In a statement, a spokesman for Reed said that the Rhode Island lawmaker is not interested in the position.
"Senator Reed loves his job and wants to continue serving the people of Rhode Island in the United States Senate," said press secreatry Chip Unruh. "He has made it very clear that he does not wish to be considered for Secretary of Defense or any other cabinet position."
Hagel, the only Republican on the president's national security team and the first enlisted combat veteran to lead the Department of Defense, has served in the job since February 2013. His tenure began with a shaky performance at his confirmation hearing in January of that year.
The news of Hagel's departure was first reported by the New York Times.
CNBC