Shares soar as China cut rates to spur growth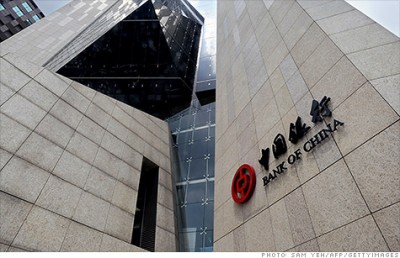 World shares surged on Friday as China surprised markets with its first interest rate cut in more than two years and the European Central Bank's Mario Draghi threw the door wide open to full scale money printing.
European shares .FTEU3, oil LCOc1 and other growth sensitive commodities all leapt as China's move to cut rates to 5.6 percent gave markets a welcome lift after a week where data has shown its giant economy heading for its worst year in almost quarter of a century.
It came as ECB head Draghi spoke in Frankfurt of his determination to use more aggressive measures such as large scale asset purchases -longhand for money printing- to ensure the euro zone did not slump into a new crisis.
"We will continue to meet our responsibility – we will do what we must to raise inflation and inflation expectations as fast as possible," Draghi said in a heavyweight speech.
"If on its current trajectory our policy is not effective enough to achieve this … we would step up the pressure and broaden even more the channels through which we intervene."
Both the euro zone and China have been lagging the momentum of the United States, stimulus-driven Japan and faster-growing Britain over the last month, but a ramping up of the ECB's rhetoric and Beijing's actions will stoke hopes of a turnaround.
Germany's DAX .GDAXI, France's CAC .FCHI and pan-regional Euro STOXX 50.STOXX50E were all up between 0.8 and 1 percent by 1230 GMT, leaving them on course for weekly gains of 4.5 percent, 2 percent and 2.4 percent respectively.
"The two together, (China cut, Draghi speech) suggest to me there is still a lot of hard policy work to be done next year," said Neil Williams, chief economist at fund manager Hermes in London.
Beijing's move also carried a hint of an escalating currency tussle in Asia.
A sharp fall in the yen JPY= this year as Tokyo has introduced wave after wave of stimulus, has been putting the squeeze on China's exporters due to a loss of cost advantage.
Japanese Finance Minister Taro Aso said on Friday that the yen's fall over the past week had been "too rapid". It was one of the strongest warnings against a weak yen since the aggressive stimulus efforts began two years ago and saw the currency leap off a 7-year low to 117.98 [FRX/]
OIL SURGE
Currency markets everywhere were shaken into life by China's move and the signals coming out of Frankfurt.
The euro fell sharply, slicing its way back down through $1.25 to $1.2430, while 10-year Italian government bond yields IT10YT=TWEB, which have been one of the biggest beneficiaries since Draghi took charge of the ECB in 2011, hit a new all-time low.
Hopes that China's growth will now quicken provided a shot in the arm for the Australian dollar AUD=D4, often used as a more liquid proxy for Chinese investments, and likewise lifted other key commodity currencies. [FRX/]
The rate cut also added to a positive mood among oil traders, many of whom expect the Organization of the Petroleum Exporting Countries to trim production, at what looks to be a landmark meeting in Vienna on Nov. 27.
Oil jumped 2 percent, or $1.75 to $81.07 a barrel LCOc1 as it surged towards its first weekly rise since mid-September in its biggest daily rise in a month.
ALL RISE
Global investor sentiment was also underpinned by record finishes by the Dow Jones industrial average .DJI and S&P 500 .SPX on Thursday after a spate of upbeat U.S. data that offset the recent signs of spreading weakness in China and Europe.
Wall Street was expected to add a further 0.6 percent when trading resumes with the day's upbeat sentiment expected to more than make up for a lack major data.
In emerging markets, Russia's rouble <RUB=, which is closely tied to the fortunes of oil, was heading for its first weekly rise since early September as the pressure it has been under eased.
Copper CMCU3 and gold XAU= also got a lift, with the red metal up 1 percent and spot gold climbing to $1,197 an ounce as traders cheered the prospect of more global stimulus.
"Commodity prices have risen across the board," said Carsten Fritsch, senior oil andcommodities analyst at Commerzbank. There is hope that this step (lower Chinese interest rates) will lift commodities demand."
Reuters