A Massive New York snowstorm claims several lives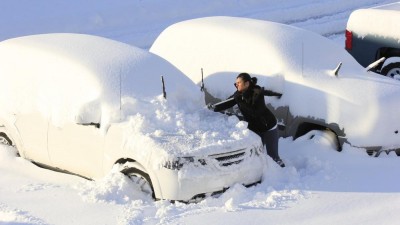 Buffalo Mayor Byron B. Brown asked city residents to adhere to a travel ban in the south portion of the city.
At Buffalo Niagara International Airport, where official records are recorded, weather service officials said only 6.2 inches of snow fell over the last 48 hours. But in the suburbs of Gardenville and West Seneca as much as 60 inches ( 1.5 meters) of snow has fallen since Monday, according to the National Weather Service.
"It's been a rough go in certain parts of the region, that is for sure," Dan Kelly, a meteorologist with the National Weather Service in Buffalo, said Wednesday.
Five people are believed to have died in the storm: One was killed in an auto accident and three had heart attacks, Erie County, N.Y., officials said, according to the Associated Press. Two of the heart attack victims are thought to have been shoveling snow. There were no details on the fifth death.
Hundreds of cars remain stranded on streets and highways throughout the region, Erie County officials said. Buffalo public schools will remained closed Wednesday.
"Hopefully, today people will be mindful of the travel bans in place so that we can clear the roads as much as possible before the next blast of snow. The important thing to remember is that the storm isn't over and people should prepare for at least two more days of bad winter weather," said Erie County Executive Director Rich Tobe.
Erie County sheriff's officials did not respond to requests for comment early Wednesday about any additional deaths that might have occurred overnight.
Gov. Andrew Cuomo declared a disaster Tuesday and deployed 150 National Guard members to upstate New York to help with the blizzard-like conditions. Cuomo is set to arrive in Buffalo Wednesday afternoon to access any damage.
Some trapped and stranded residents have stayed busy by sharing photos of their ordeals. Among them was the Niagara University women's basketball team, which was stranded for more than 24 hours on its bus while the team was making its way home from Pittsburgh on the New York State Thruway. Players tweeted pictures of a snow plow digging out the bus.
From New York to Colorado, much of the country has been battered by frigid temperatures and snowy weather. In Burlington, Colo., on the state's eastern plains, temperatures dipped to -10 last week to set a record low for the month of November. In Casper, Wyo., Wednesday temperatures dipped to -27 – well below its November record of -21 set in 1985, according to the weather service.
LA TimesA Massive snowstorm that hammered much of upstate New York has claimed several lives and left thousands stranded along highways and inside homes as temperatures hover below freezing.
More snow for the Buffalo area is expected into the weekend and totals for the region could break national records for the most snowfall in a 24-hour span.
In the Buffalo area, several counties were hit with 5 to 6 feet ( 1.5 to 1.8 meters) of snow overnight and into Wednesday with dozens of motorists stranded in cars and trucks in the south suburbs of the city.