Ukraine is 'ready for total war' with Russia says Petro Poroshenko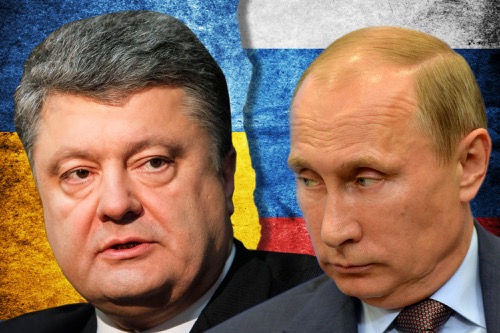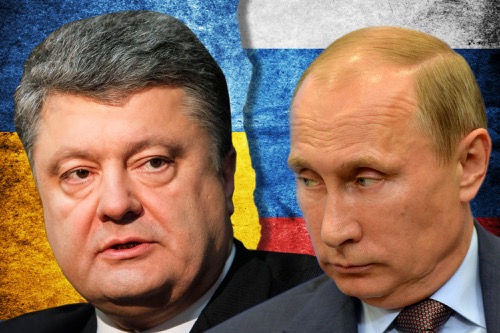 Ukrainian president Petro Poroshenko claimed his country was "prepared for total war" as fighting continued around the pro-Russian rebel stronghold of Donetsk in eastern Ukraine.
Fresh volleys of artillery fire were heard across many parts of Donetsk yesterday (local time), fuelling fears of a military build-up amongst rebel forces.
The latest clashes come amid a nominal ceasefire that has halted fighting along much of the frontline but not stopped regular artillery bombardments at strategic hotspots.
Government forces and rebels have accused each other of violating the terms of the truce, raising fears it could collapse entirely.
A government statement issued in the name of Donetsk city administration said the situation in the city was tense.
"According to residents, powerful volleys and explosions of heavy weapons can be heard in many districts," it said.
Before the latest reports of shelling, a Ukrainian military spokesman said the weekend had been calmer than in previous days, but warned again of a build-up in separatist forces.
"Compared with previous days, the number and intensity [of shelling] fell, but there are signs of rebels and Russian forces preparing for an offensive," Andriy Lysenko said in a briefing in Kiev.
The UN said it feared "a return to total war" in the area.
After a week in which Kiev said several unmarked armoured convoys of troops crossed the Russian border to reinforce rebels in the east, Mr Poroshenko toughened his rhetoric, telling the German daily Bild: "I am not afraid of a war with Russian troops."
"We are prepared for a scenario of total war … We don't want war, we want peace and we are fighting for European values. But Russia does not respect any agreement," he said in an interview to be published today.
Mr Poroshenko said Kiev was now better prepared to face a rumoured rebel offensive.
"More than anything we want peace, but we must at the moment face up to the worst-case scenario," he told the paper.
"Our army is now in a better state than it was five months ago and we are being supported by the entire world."
Crisis has a good chance of resolution: Putin

Ukraine's pro-Western leaders and NATO have accused Russia of sending soldiers and weapons to help pro-Russian rebels launch a possible new offensive, a charge the Kremlin has repeatedly denied.
US president Barack Obama said that Russia would remain isolated by the international community if Russian president Vladimir Putin failed to end Russian backing for separatists.
Mr Putin came under intense diplomatic pressure at the G20 Leaders' Summit in Australia over the situation in the Ukraine.
But the Russian president said there was a "good chance of resolution" in Ukraine, rejecting Western condemnation of his country's role in the conflict.
"Today the situation [in Ukraine], in my view, has good chances for resolution, no matter how strange it may sound, but certain structures had been established on both sides that could handle the tasks they are facing better," Mr Putin told a select meeting of reporters on the side of the summit in Brisbane.
Mr Putin added that Kiev's decision to impose an economic blockade of eastern Ukraine was a "big mistake", but "not fatal".
On a visit to Bratislava, Mr Poroshenko told reporters the conflict would "end within two weeks" if the peace plan signed in Minsk in September was implemented.
Andrei Purgin, deputy prime minister of the self-proclaimed Donetsk People's Republic, told Reuters rebels had reached an agreement with Ukrainian forces to stop shelling around Donetsk airport following a meeting that included representatives of Russia and security watchdog OSCE.
Ukrainian military spokesman Mr Lysenko said he did not have information on the agreement referred to by Mr Purgin.
Seven months of fighting in eastern Ukraine has claimed the lives of more than 4,100 people, according to UN figures.
In separatist Luhansk region, three members of Ukraine's special police force were killed as a result of a rebel attempt to break into Ukrainian-controlled territory, the Interior Ministry said in an online statement.
The press service for the military operation said another soldier had been killed elsewhere in the region.
AFP/Reuters