The Bible voted most valuable book for the modern world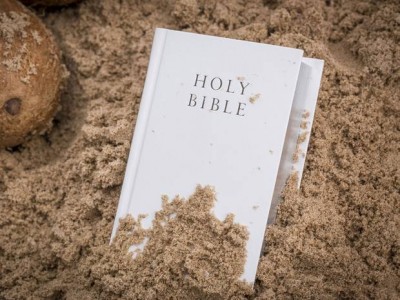 The Bible has been voted more valuable to humanity than Charles Darwin's On the Origin of Species by the British public.
The Folio Society survey conducted by YouGov asked members of the public to name the books of most significance for the modern world.
The Bible edged just in front with 37 per cent of the vote, while Darwin's book explaining his theory of natural selection was chosen by 35 per cent of the 2,044 British adults surveyed.
On the Origin of Species was chosen because it "answers fundamental questions of human existence", while The Bible was cited because it "contains principles / guidelines on how to be a good person".
Tom Walker, editorial director of The Folio Society, said: "The first question I had was whether the similar figure for Darwin and the Bible does show a continuing polarization between the realms of science and religion, or whether in fact it reveals a more balanced approach to ideas for the modern reader.
"They are the two ideas which have clashed in the 20th century – this shows, I think, that we can take understanding from both of them."
A Brief History of Time by Stephen Hawking was voted in third place, just ahead of Albert Einstein's Relativity: The Special and General Theory.
Only two novels made up the top ten with George Orwell'sNineteen-Eighty Four and Harper Lee's To Kill a Mockingbirdvoted among the most valuable books to humanity.
The publisher asked respondents to choose three titles from a list of 30 books. The Communist Manifesto, War and Peace andHamlet came just outside of the top ten with five per cent of the vote, while Mary Wollstonecraft's A Vindication of the Rights of Women was chosen by four per cent of people.
A few of the titles including Salman Rushdie's Midnight's Children and Kurt Vonnegut's Slaughterhouse-Five received no votes.
"There is an overtly political message to both of the fiction titles, but fiction generally doesn't seem to be seen as so highly influential in how people judge ideas in society; Shakespeare and Tolstoy also have low percentages," Walker said.
Independent