Hezbollah brands its relation with Aoun as "existential integration."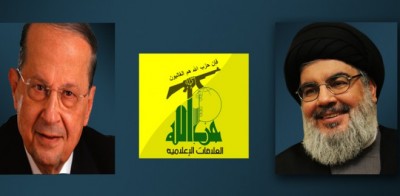 Hussein Khalil , the political aide of Hezbollah secretary general Hassan Nasrallah described the relations with FPM leader MP Michel Aoun as "existential integration " stressing that FPM and Hezbollah have become one body any neither party is complete without the other .
He made the statement following a visit to al Rabiyeh after meeting with Aoun.
Commenting on Nasrallah's controversial endorsement of Aoun for the presidency he said:
"What the Sayyed (Nasrallah) said about the presidency was the normal thing to say, because General Aoun represents the pinnacle of national leadership. He makes his own decisions and he is not subordinate to a foreign agenda and he's almost the sole leader of Christians in Lebanon and the Middle East."
He added: "We believe that General Aoun is the best candidate for the presidency and this is our final stance."
He continued with his praise for Aoun: "We consider General Aoun to be a consensual man and he has the characteristics of the prominent leader. He is a man of decision at the level of Lebanon and the region. We'll defend our point of view till the end and this is our firm stance which we will not change"
Commenting on the FPM , Hezbollah disagreement over the extension of the mandate of the Lebanese parliament Khalil said:
"The issue of extension is a minor thing and we don't impose our ideas on our allies, the same as our allies do not accept to impose their will on us."
Commenting on UN call on Lebanon to elect a president Khalil said:
"We're all calling for holding presidential elections and we're glad that the (U.N.) Security Council has finally realized this."
The Lebanese parliament failed for 16 times in a row to elect a president to replace Michel Suleiman whose term ended on May 25.
In all the sessions the parliament was unable to reach a quorum because Hezbollah and its ally MP Michel Aoun's Change and Reform bloc MPs boycotted the election sessions.