Arctic blast hits Canada and US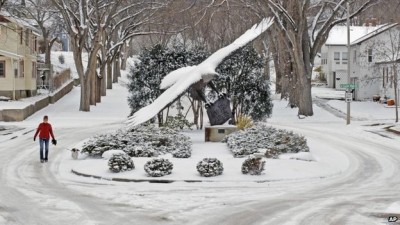 Parts of Canada and the US Midwest have been getting their first blast of winter, sending temperatures plummeting by as much as 22C (40F) in days.
The sharply cooler temperatures are a result of frigid air pushed in by a powerful storm that hit Alaska with hurricane-force winds.
Parts of Wisconsin, Minnesota and Michigan saw over a foot of snow overnight on Monday.
And more than 150 flights were cancelled at the Minneapolis airport.
Michigan's Upper Peninsula was expecting as much as another two feet of snow after accumulating more than a foot on Monday.
National Weather Service meteorologist Justin Titus said roads on the peninsula were in a "very poor condition" with two to three inches of snow falling an hour on Tuesday morning.
In Minnesota, state police said at least two people were killed in accidents on icy roads.
Snowy roads were blamed for a Wisconsin school bus crash that sent two adults to hospital, according to a local broadcaster.
Terri Sommerfeld, a clerk at Ace Hardware in Webster, Wisconsin, said the store had sold six or seven snow-blowers in two days, the same amount they sell in a typical winter.
The unseasonably cold temperatures are expected to move further east on Wednesday.
What made this chill more of a shock was the way it struck so quickly after warm autumn weather.
David Phillips, a climatologist for Environment Canada, says Calgary experienced its warmest October for 50 years. The average temperature was 8.3C and it's usually 5.2C.
On Saturday afternoon, he said, Calgary was 14.4C but it dropped 32 degrees in the next 36 hours.
BBC