UN warns: Funding shortfall could leave a million Iraqis, Syrians out in the cold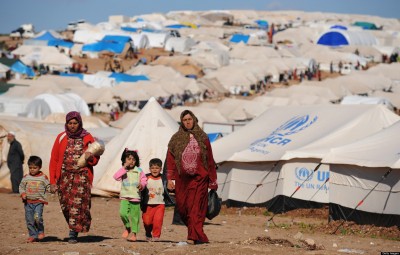 The U.N. refugee agency warned Tuesday that a funding shortfall of $58.45 million could leave up to one million Iraqis and Syrians out in the cold this winter.
"The shortfall affects our winter preparedness programs… and means that UNHCR is having to make some very tough choices over who to prioritize," UNHCR spokesperson Melissa Fleming said at a press briefing in Geneva on Tuesday.
In order to prioritize assistance, the U.N. considers a number of factor, including refugee settlement elevation, family unit composition, health concerns, new arrivals, family resources and shelter conditions.
Approximately 990,000 people, most of whom were recently displaced by conflicts in Iraq and Syria, will be affected by the lack of funding this winter, Fleming said.
"I wish we could support everybody and I wish we could give everybody more," said Amin Awad, director of UNHCR's Middle East and North Africa Bureau, of the 13.6 million people displaced by the Iraq and Syria conflicts.
"The reality is that the population moved and continues to move quickly in 2014 and the funding continues to trickle in slowly."
Given the funding currently available, UNHCR reports it will only be able to assist 38,000 — or 60 percent — of the most vulnerable refugees in need of winter preparedness aid.
UPI