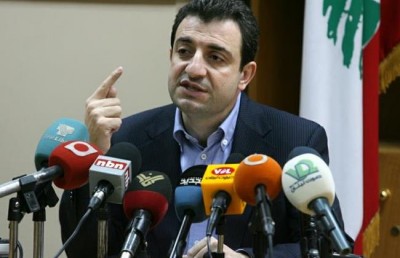 Beirut, Lebanon-  The list reads like a who's who of Lebanese eateries – Hawa Chicken, Spinneys, Roadster Diner and dozens of others – but this was no recognition of Lebanon's famed cuisine: Tuesday afternoon
"The Lebanese citizen's food is not only dipped with sweat, but also in diseases and microbes,"  Lebanese  Health Minister Wael Abu Faour said during a news conference at his ministry on Tuesday . "The Lebanese does not know what he eats, and it will be a disaster if he knows."
The health minister named and shamed establishments across Lebanon serving unsafe food.
Abou Faour  revealed that numerous supermarkets, bakeries, butchers and restaurants had been violating food safety standards, according to the results of the inspection campaign done by the ministry over the last 20 days.
Among the famous supermarkets that were named by Abu Faour were Fahed Supermaket in Jounieh, Hawa Chicken, Spinneys in Jbeil, Abou Khalil in Damour, Metro in Baaba, MP in Aley and TSC Mega in the Metn area.
Other notable places mentioned were Roadster Diner for chicken breasts, Bedo for sausages, Makaneq for soujok, and Al-Hallab sweets shop in Tripoli for Ashta.
"The purpose is not to distort the image of any companies," Abu Faour repeated several times during the conference. "But we have a responsibility toward the citizens."
The two places with the worst records so far were the Tanmiya food retailer and An-Natour Butcher Shop.
The first, which produces many meat and chicken products and is especially famous for cold cuts, has been advancing the production dates printed on their products for three months, which deludes the consumers into thinking they are eating fresh products, according to the minister.
As for An-Natour butcher, which had been previously closed by the government for importing and distributing expired and diseased meat, the owners seemed to have not learned the lesson.
"We found that they are using expired Brazilian meat," Abu Faour said, stressing that such grave violations would not be tolerated.
Other, "less severe" violations included stacking meat in rusty containers, opening toilet doors to the kitchen, putting food next to garbage, using rusty, old and unclean knives, not wearing gloves while working in food and using frying oils for months.
The minister also revealed that the remains of human waste were found in some cases, though he did not identify the establishments.
The inspections have not yet reached Beirut, but Abu Faour said the results for the capital would come out Thursday, promising to take the necessary legal measures against the companies and the ministry's employees who had not been doing their duty.
here is a list of the establishments
JBEIL
Hawa Chicken
Taouk
Spinneys
Meat
Jbeil Supermarket
Meat
NABATIEH
Rimal restaurant
Hamburger
KESROUAN
Fahed Supermarket
Minced meat, kafta, hamburger and shawarma
TRIPOLI
Crepina restaurant
Chicken and mayo
Dar al-Qamar restaurant
Meat
Chai w Asal restaurant
Hamburger
Baytna restaurant
Meat
Abdel Rahman Hallab restaurant
Ashta
Makiye
Ashta
ALEY
Hawa Chicken restaurant
Chicken and taouk
MP Supermarket
Minced meat
BAABDA
Metro Supermarket
Rotisserie chicken
Poule d'or
Rotisserie chicken
Al-Amiliyya airport road
Whole rotisserie chicken
CHOUF
Rashid Moussa shops
Sujuk
Ghanem institution
Hamburger
Al-Rayan institution
Shish taouk
Abou Khalil Damour
Sujuk
METN
Bido
Sausage
Kababji Jal el-Dib
Minced meat
Roadster Diner
Chicken
Zomrab butchery
Soujuk and sausage
Tannouri market Baabdat
Minced meat
Al-Ashqar Antelias
Soujuk and sausage
Masoud market
Minced meat
McDonalds
Chicken nuggets
Mnih farms
Labneh
Al-Khawly market
Sausage and beef pieces
Al-Sultan butchery
Chicken and minced meat
Metro
Whole rotisserie chicken
Nassar Supermarket
Meat
Marché du Rond Point
Meat
TSC Mega
Veal, hamburger, minced meat and taouk
Mazloum
Taouk and minced meat
Broumana market
Taouk and soujuk