Suicide bomber kills 47 boys in Nigeria school massacre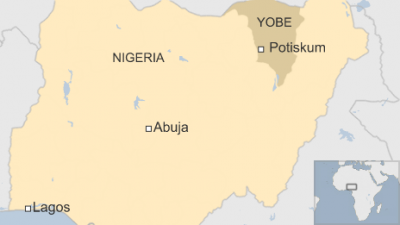 KANO, Nigeria: Boko Haram was suspected of killing nearly 50 pupils in a suicide bombing in northeastern Nigeria on Monday, in one of the worst attacks against schools teaching a so-called Western curriculum.The explosion ripped through an all-boys school in Potiskum just as students gathered for morning assembly before classes began, causing panic and chaos.
Students at the Government Comprehensive Senior Science Secondary School were waiting to hear the principal´s daily address when the explosion happened at 7:50am (0650 GMT).Several witnesses described the blast as "thunderous" and the bloody aftermath a scene of abandoned footwear, school books, bags and body parts.
"There was an explosion detonated by a suicide bomber. We have 47 dead and 79 injured," national police spokesman Emmanuel Ojukwu said, adding that Boko Haram was believed to be responsible. One rescue worker said the wounded had "various degrees of injuries", while those who survived complained of hearing problems from the deafening blast.
The school has more than 1,000 pupils and caters for boys aged 15 to 20.The victims are all thought to be in their teens. Student Adamu Abdullahi said those at the centre of the blast near the principal´s office were flung in all directions and others were knocked off their feet.
"I found myself under the weight of another student, who fell over me. I´m certain he was dead. I was dazed and disorientated for a moment," he told AFP.
"When I realised what had happened, I managed to push the body on top of me and started running like everyone else. It was confusion all over. Everybody was hysterical."I saw many people on the ground. Human flesh and blood were splattered all over the place… I ran out of the school and went home.
"When my father saw me he was terrified. I didn´t realise my white school uniform was stained with human blood and bits of flesh."
The dead and injured were taken to the Potiskum General Hospital just 100 metres (yards) away.Boko Haram, which wants to create an Islamic state in northern Nigeria, has previously carried out deadly attacks on schools teaching a so-called Western curriculum since 2009.
In February, gunmen killed at least 40 students after throwing explosives into the dormitory of a government boarding school in Buni Yadi, also in Yobe state.
In July last year, 42 students were killed when Boko Haram stormed dormitories in a gun and bomb attack on a government boarding school in the village of Mamudo, near Potiskum.Boko Haram´s most high-profile attack on a school came in April, when fighters kidnapped 276 girls from the town of Chibok in Borno state, also in northeast Nigeria.
More than six months later, 219 of the girls are still being held.Monday´s attack will again raise concerns about the level of security at schools in northern Nigeria.Abdullahi said the establishment was "not properly fenced".
"Anybody can go in and out unhindered," he added.Potiskum, the commercial hub of Yobe state, has been repeatedly targeted by deadly attacks blamed on Boko Haram.Last Monday, at least 15 people were killed in a suicide bombing on a Shia religious ceremony in the city.
On Wednesday, 16 men arrested by the military on suspicion of links to Boko Haram were found dead with bullet wounds just hours later.Yobe is one of three northeastern states that has been under a state of emergency since May last year to try to quell the bloody insurgency.
But violence has continued unabated and Boko Haram has seized at least two dozen towns and villages in recent months, raising doubts about the government´s ability to control the region.
Boko Haram fighters were seen in a new video obtained by AFP on Sunday parading a tank in an unidentified town that they apparently now control and Shekau preaching to locals.The message in the 44-minute video appeared to be aimed at reinforcing Shekau´s claim that he has created a caliphate within Nigeria.
Shekau, who has previously expressed solidarity with other jihadi groups and leaders, seemed to associate territory under his control with a wider, global caliphate.But he does not submit to the authority of any other leader. –
the news