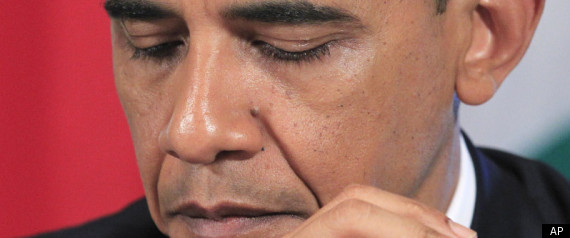 Days after the Democratic party was handed broad defeats in Tuesday's midterm elections, President Barack Obama responded bluntly: "We got beat."
In an interview with CBS's "Face the Nation" that aired Sunday, Obama said that voters "see Washington gridlocked and they're frustrated. And they know one person in Washington and that's the president of the United States. So I've got to make this city work better for them."
Voters across the country on Tuesday handed control of the Senate to Republicans, last controlled by the party in 2006. An NBC News national exit poll found three major factors driving the outcome: President Obama's low approval ratings, a strong anti-government streak among many voters and frustration about the economy.
Obama did concede criticisms that he has to do a better job of selling his agenda, notwithstanding the deep opposition from Republicans (which wasn't explicitly mentioned.)
"It's not enough just to build a better mousetrap," the president told host Bob Schieffer. "People don't automatically come beating to your door. We've got to sell it. We've got to reach out to the other side and, where possible, persuade."
Where time is running out: Immigration. Obama doubled down on his intent to issue an executive order on immigration, saying he had told House Speaker John Boehner that the White House is prepared to take action if Congress does not move by the end of the year.
"If, in fact, a bill gets passed, nobody's going to be happier than me to sign it, because that means it will be permanent rather than temporary," he added.
Asked if he even liked being president, Obama said, "I love this job. Here's, I think, a fair statement: If your name is Barack Hussein Obama, you had to have liked politics in order to get into this office … I got into politics because I believed I could make a difference, and I would not have been successful and would not be sitting at this desk every day if I didn't love politics."
He added, "We wouldn't have gotten healthcare passed if there wasn't a whole lot of arm twisting."