Palestinian leaders slam Al-Aqsa Mosque shutdown as 'declaration of war '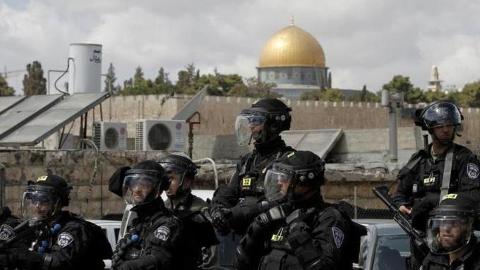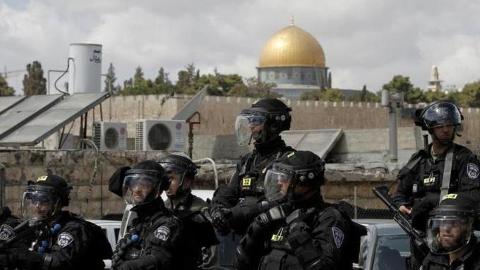 The Palestinian leadership has slammed the Israeli shutdown of the Al-Aqsa mosque in the aftermath of the shooting of a Palestinian suspected would-be assassin as a 'declaration of war.'
Israeli police on Thursday killed a 32-year-old Palestinian suspected of having tried hours earlier to kill a far-right Jewish activist – incidents that have heighten tensions in an already tense Jerusalem, and led to clashes.
Eyewitnesses reported seeing Moataz Hejazi's body lying in a pool of blood among satellite dishes on the rooftop of a three-story house in Abu Tor, a district of Arab East Jerusalem, as Israeli forces sealed the area and repelled stone-throwing Palestinian protesters.
Hejazi was suspected of shooting and seriously wounding Yehuda Glick, a far-right religious activist who has led a campaign for Jews to be allowed to pray at the Al-Aqsa mosque, one of Islam's holiest sites.
Glick, a U.S.-born settler, was shot as he left a conference at the Menachem Begin Heritage Center in Jerusalem late Wednesday, his assailant escaping on the back of a motorcycle. A spokesman for the center said Hejazi had worked at a restaurant there. Glick, 48, remains in serious but stable condition in the hospital, doctors said.
The area around Al-Aqsa, also known as Temple Mount, was closed to the public as a security precaution, provoking a strong reaction from the Palestinian leadership dubbed.
"This dangerous Israeli escalation is a declaration of war on the Palestinian people and its sacred places and on the Arab and Islamic nation," said Nabil Abu Rudeina, a spokesman for Palestinian leader Mahmoud Abbas.
Israeli police helicopters circled East Jerusalem on Thursday morning as special units looked for the suspected gunman. Abu Tor and the neighboring district of Silwan have been the scene of nightly clashes between Palestinians and Israeli forces in recent months as tensions surged in the aftermath of the Gaza war and over the issue of access to Al-Aqsa mosque.
Residents said hundreds of Israeli police and special units were involved in the search for Hejazi. He was tracked down to his family home in the winding, hilly backstreets of Abu Tor and eventually cornered on the terrace of an adjacent building.
"Anti-terrorist police units surrounded a house in the Abu Tor neighborhood to arrest a suspect in the attempted assassination of Yehuda Glick," Israeli police spokesman Micky Rosenfeld said. "Immediately upon arrival, they were shot at. They returned fire and shot and killed the suspect."
Locals identified the man as Hejazi, who was released from a decade in an Israeli prison in 2012. Hejazi's father and brother were arrested and taken for questioning. Israeli police fired sound bombs to keep back angry residents, who shouted abuse as they watched the drama unfold from surrounding balconies.
East Jerusalem, which was captured by Israel in the 1967 war and has been occupied since in contravention of international law, has been a source of intense friction in recent months, especially around the village of Silwan, which sits in the shadow of the Old City and Al-Aqsa mosque.
Jewish settler organizations have acquired more than two dozen buildings in Silwan over the years, including nine in the past three months, and moved settler families into them. Around 500 settlers now live among approximately 40,000 Palestinians residents.
That process, combined with the tensions over Al-Aqsa and the Temple Mount, the holiest place in Judaism, have led to the most fractious atmosphere in East Jerusalem in more than a decade. In 2000, the Second Intifada, or uprising, began after a visit by former Prime Minister Ariel Sharon to the Temple Mount.
On Thursday, crowds of young Palestinian men and boys blocked the streets near where Hejazi was killed with rubbish piles and fires. They smashed tiles and bricks and used the pieces to throw at Israeli police, masking their faces with bandannas or pulling hooded tops around their heads.
Police responded with sounds bombs and at least one canister of tear gas.
After Glick was shot, far-right Jewish groups urged supporters to march on Al-Aqsa on Thursday morning. That prompted Israeli police to shut access to the site to everyone — Muslims, Jews and all tourists — in a rare blanket prohibition.
Glick and his backers, including Moshe Feiglin, a far-right member of Prime Minister Benjamin Netanyahu's Likud party, are determined to change the status quo that has governed Al-Aqsa since Israel seized the walled Old City in 1967.
Those rules state that Jordan's religious authorities are responsible for administering Al-Aqsa. Additionally, rules stipulate that while Jews may visit the marble-and-stone esplanade, which includes the 7th century gold-plated Dome of the Rock, they cannot pray there.
Glick and his supporters argue that Jews should have the right to pray at their holiest site, where two ancient Jewish temples once stood, even though the Torah forbids it and many rabbis consider it unacceptable.
Al Jazeera