Russian hotels go halal to attract Muslim tourists
No bacon for breakfast, a room for prayers and a Koran on the bedside table: this is the special halal service a hotel in Moscow has launched as Russia tries to attract visitors from the Muslim world.
"Around 70 percent of our guests are from overseas and 13 percent of these — or some 5,000 people — come from Muslim countries, especially Iran," said Lyubov Shiyan, marketing director at the Aerostar hotel.
"Our Muslim visitors were constantly asking for a separate prayer room or a special menu," she said. "We wanted everyone who came here to feel at home."
To make that happen, the hotel had to go through a rigorous procedure before it could finally be certified halal by Muslim officials in Russia and launch the service this month, but the extra work looks like it could be worth it.
These are tough times for Russia's tourism industry with the numbers of visitors — especially from the West — nosediving in recent months amid the worst East-West tensions since the Cold War over the crisis in Ukraine.
Industry sources set the drop in Western visitors — notably from the US and Britain — at 30 to 50 percent. That has sent hotels scrambling to attract guests from other parts of the globe, including Muslim nations in the Mideast and Asia that have placed no sanctions on Moscow over its intervention in Ukraine.
"We equipped 20 rooms out of the 308 in the hotel with a prayer mat, a basin for ritual washing and a small compass that indicates the direction of Mecca," Shiyan said.
Those staying in the specially modified accommodation at the hotel, in the capital's north, halfway between Sheremetyevo International Airport and downtown Moscow, will also find a copy of the Koran in their room.
"Even the shampoo and soap in the rooms have been certified as halal, and do not contain any animal fats or alcohol," she added.
Two prayer rooms — one for men and one for women — have been set up and a separate kitchen will be cooking exclusively halal food.
"You won't find any pork or ham here," chef Vitaly Ukhanov said as he stood in his small, bright kitchen, where a sign with the word "halal" written inside a green star hangs on the wall.
"All the crockery is new and has never been used in the main kitchen," Ukhanov added.
Despite the customized service, discretion is maintained: Although Muslim clients are served at a separate group of tables away from the main buffet, there are no signs indicating it is a halal section and they are tended to by a special team of waiters.
The investment has already started paying off for the Aerostar, which hosts many high-level Iranian businessmen.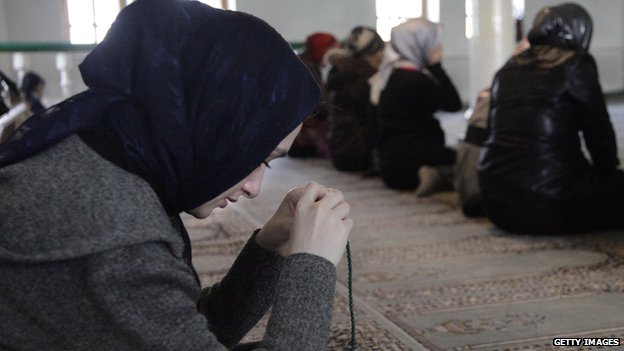 In the first two weeks since its launch of halal service, the hotel has already boosted reservations from Malaysia and Iran.
"Due to the fall in the number of visitors from the EU and the US, the Russian tourist industry has started paying greater attention to people coming from Muslim nations," said Samat Sadykov, from the Halal International Center for Standardization and Certification in Moscow.
"Creating the right conditions for them to have a comfortable stay here has become all the more important," he said. "Halal services are now in high demand."
Despite being home to about 20 million Muslims, Russia has only two hotels — both in the traditionally Muslim region of Tatarstan — that are officially recognized as halal, Sadykov said.
Tapei Times