U.S. outlines strategy to combat Islamic State funding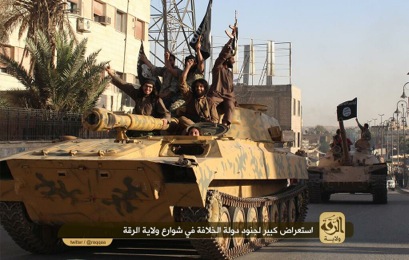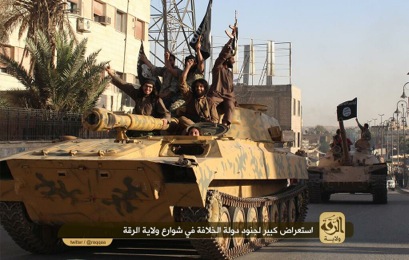 tank
A senior official with the U.S. Department of the Treasury described on Thursday how the U.S. government is tracking and attempting to disrupt the Islamic State's financial foundation.
Under Secretary for Terrorism and Financial Intelligence David S. Cohen, speaking at the Carnegie Endowment for International Peace, said IS (also known as ISIL) "has amassed wealth at an unprecedented pace, and its revenue sources have a different composition from those of many other terrorist organizations."
IS, unlike al-Qaida, draws revenue mostly from local criminal and terrorist activities, rather than through donors.
"ISIL's primary funding tactics enable it today to generate tens of millions of dollars per month. Those tactics include the sale of stolen oil, the ransoming of kidnap victims, theft and extortion from the people it currently dominates, and, to a lesser extent, donations from supporters outside of Syria and Iraq."
Oil revenue has been particularly lucrative; "we estimate that beginning in mid-June, ISIL has earned approximately $1 million a day from oil sales," said Cohen.
That funding source, however, may be limited due to U.S.-led airstrikes targeting IS-controlled oil refineries. Such strikes, Cohen pointed out, "are threatening ISIL's supply networks and depriving it of fuel to sell or use itself." He also credited Turkey and Iraq's Kurdistan Regional Government for preventing IS-derived oil from crossing their borders.
The U.S. continues to impose financial sanctions to restrict the sale of the terror group's stolen oil, including efforts to identify middlemen involved in attempted re-sale activities.
"Last week, the International Energy Agency reported that ISIL's ability to produce, refine and smuggle oil had been significantly hampered."

With regard to kidnapping for ransom — a common terrorist finance tool — the U.S. estimates "ISIL has taken at least $20 million in ransoms this year." Although "ransom payments are irregular," Cohen notes that "each one can be a significant boon."
In order to deter terror kidnapping ventures, the U.S. is advocating for all countries to adopt and implement "a no-ransoms policy."
"Refusing to pay ransoms to terrorists, therefore, not only makes it less likely that Americans will be taken hostage, but it also deprives terrorists of funding critical to their deadly aspirations and operations."

IS funds are also derived "through a sophisticated extortion racket" that can amass "up to several million dollars per month." Cohen cited accounts of IS extortion activities in the northern Iraqi city of Mosul, where business owners have been threatened with violence if cash is not handed over.
Common criminal activity, such as bank robberies, theft of livestock and crops, and selling abducted girls and women as sex slaves, factors into IS funding, Cohen added.
Outside of Iraq and Syria, IS "maintains important links to financiers in the Gulf." Although donors do not play a significant role in the terror group's funding mechanism, Cohen said "that is no reason to relax our efforts in this area."
Those efforts include sanctions, which Cohen said will be ramped up in the coming months, and implementing a U.N. Security Council resolution proposed by President Barack Obama to stop the flow of foreign fighters both into and out of Iraq and Syria.
"We should not confuse funding with financial strength," Cohen cautioned. "While ISIL today is well-funded, a terrorist group's overall financial strength turns not just on its income, but also on its expenses and, importantly, the degree to which it can dedicate its resources to violent purposes. And in that regard, ISIL operates within certain real constraints."

IS take-overs of villages, towns and cities in Iraq and Syria present a real financial burden, one that "we will further exploit," said Cohen.
UPI