Syria air strikes killed hundreds of jihadists , say activists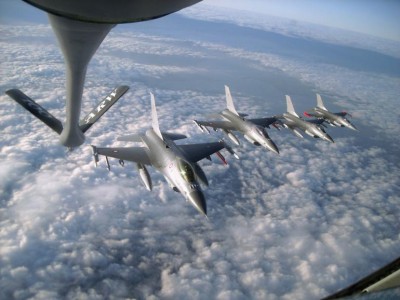 A month of US-led air strikes on Syria has now killed more than 500 jihadists, according to activists monitoring the conflict.
As allied jets continue to bombard positions of Islamic State of Iraq and the Levant (Isil) around the besieged Kurdish town of Kobane, the Syrian Observatory of Human Rights said it had recorded a total of 553 dead since the air raids started in late September.
Of those 32 were civilians, including women and children – mainly in towns further south such as Raqqa, the de facto headquarters of Isil, and around other targets such as oilfields.
But 464 members of Isil had been killed, many around Kobane. The number is thought to include sizeable numbers of foreign fighters, including a number of Britons.
Mamunur Mohammed Roshid, 24, the third of a group of six fighters from Portsmouth to have died fighting for Isil in Syria, is thought to have been hit by an American strike on Kobane last Friday.
A further 57 members of the rival, and al-Qaeda-aligned, group Jabhat Al-Nusra were killed in a series of 46 Cruise missile strikes near Aleppo at the opening of the bombing campaign last month.
The Pentagon said they were part of a special al-Qaeda unit set up in areas of Syria wracked by civil war to coordinate attacks on the West, including through the use of newly developed, hard-to-detect explosive devices.
The air attacks have had a major effect on the battle for Kobane, where the Kurdish fighters of the local militia, the YPG, were at risk of being swamped until the tide turned a week ago.
The strikes were clearly visible from neighbouring Syria, and Kurdish officials told The Telegraph involved direct liaison between Kurdish fighters and the air force, who were given precise coordinates of Isil positions in and around the town.
The Kurds however say they are still in desperate need of relief, as the jihadists have been able to send in reinforcements, including from their internal "police" service.
Turkey has prevented the YPG from sending in reinforcements, as it is allied to the Turkey-based guerrilla movement, the PKK.
However, the Turkish President, Recep Tayyip Erdogan, on Thursday confirmed he would allow 200 troops from the official forces of the Kurdistan Regional Government (KRG) in northern Iraq, the Peshmerga, to cross into Kobane to bolster the local Kurds.
That deployment was agreed by the KRG parliament on Wednesday.
Mr Erdogan has been highly critical of American support for the YPG, saying that the battle against Isil should be undertaken as part of a wider intervention in Syria to remove the Assad regime.
Telegraph