4 killed in clash in north Lebanon after army raid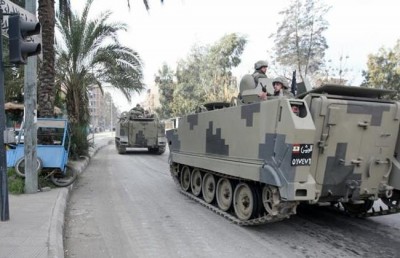 Four men were killed Thursday in clashes that erupted when the army raided the apartment of Syrian refugees in the restive north of the country, a security source said.
During the dawn raid, the army arrested a Lebanese soldier who had deserted as well as a man accused, with his son, of beheading troops taken hostage in August, the source told AFP.
Tensions have soared in Lebanon since August when the army fought deadly clashes with jihadists of the Islamic State and Al-Qaeda affiliate Al-Nusra Front in the border town of Arsal.
The jihadists who infiltrated from neighbouring Syria withdrew after a truce deal but took with them 30 captive Lebanese soldiers and policemen, three of whom they later executed.
The jihadists are demanding that Lebanon free Islamist prisoners.
Since August the army has carried out near-daily raids in the border region with Syria and in the restive north where four soldiers have been killed — to hunt for suspects with links to jihadist groups.
On Thursday, "the army raided at dawn an apartment inhabited by Syrian refugees in the village of Aasun in the Dinniyeh region," near the port city of Tripoli, the security source said.
"Clashes broke out", leading to death of four men, including a Syrian and a Lebanese, the source added.
A soldier who recently announced via YouTube his defection from the army was captured during the raid, the source said.
He is the fifth Lebanese soldier to have announced his defection from the army since August.
All have announced their desertion in videos released by jihadists groups in which they claim they have joined militant ranks.
The army also arrested Ahmad Miqati, a man in his 60s who is "accused along with his fugitive son of beheading soldiers in Arsal," the source said.
During the raid, the army also seized "weapons, ammunition and explosive belts", the source added.
Dozens of Syrian and Lebanese suspects accused of ties to jihadist groups have been arrested in Lebanon since the August battles.
The Peninsula / AFP