Saudi Arabia sentences outspoken Shi'ite cleric to death , report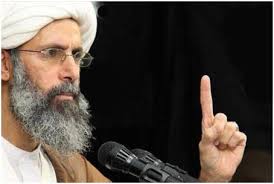 A Saudi judge sentenced to death a prominent cleric on Wednesday who has called for greater rights for the kingdom's Shi'ites, the cleric's brother said, two years after his arrest prompted deadly protests in the oil-producing east of the country.
Sheikh Nimr al-Nimr was detained in July 2012 after demonstrations that erupted in February 2011 in Qatif district, home to many of the Sunni-ruled country's Shi'ite minority.
His brother, Mohammed al-Nimr, reported Wednesday's sentencing on his Twitter account.
The sentence could raise tensions in Qatif, the focal point of anti-government protests demanding an end to discrimination. The frequency of the protests had died down over the past year.
Last year a prosecutor said he was seeking to convict Nimr for "aiding terrorists". Former interior minister Prince Ahmed bin Abdulaziz previously accused Nimr of being "mentally unbalanced".
His capture, during which he was shot and wounded by police, prompted several days of protests in which three people were killed. Protests continued sporadically in Qatif, where more than 20 people have died in violence, until 2013.
Nimr has become the most prominent cleric calling for more rights for the Shi'ite minority and is accused by the government of helping to instigate the unrest which broke out in Qatif during the Arab uprisings in 2011.
However, he has not called for violence against the government or Sunnis, say Shi'ites in the Eastern Province. They say he is portrayed as an extremist because he does not accept that conditions for Shi'ites will be improved by negotiations with authorities.
"(The death sentence) will shock everyone here and it will reduce very much the credibility of the state among Shi'ites. I think the government is giving a show of strength against anyone who thinks of opposition," said Tawfiq al-Seif, a community leader in Qatif.
State news agency SPA reported that a Saudi court had sentenced to death an individual convicted of several crimes, including the person's "announcement that he would not obey the Guardian of Muslims in the Kingdom, not pledging allegiance to him …, inciting the public to that and demanding the toppling of the state through Friday sermons and public statements".
Earlier this year two other Shi'ite men involved in the protests were sentenced to death, including Ali al-Nimr, the son of Mohammed al-Nimr, who was a minor at the time of the demonstrations.
The sentences have yet to be carried out.
DEATH PENALTY
Mohammed al-Nimr did not give details of the sentence against Sheikh Nimr in his Tweet, but said the judge had rejected a verdict of hadd al-haraba, or rebellion, which carries the additional penalty of publicly displaying the body.
People in Qatif remain hopeful that the death sentences passed against Nimr and the other men will not be carried out, Seif said. "Probably they want to show people the sword but not actually use it," he said.
Hundreds of people in Qatif staged a march in solidarity with Nimr, a local resident said. It finished without incident.
Saudi courts have also sentenced more than a dozen Sunni militants to death this year for their part in attacks on foreigners and officials that killed hundreds during an al Qaeda campaign between 2003 and 2006.
Last year the conservative Islamic kingdom executed more people than any other country except China and Iran, most of them by public beheading.
Shi'ites say they face discrimination in seeking education or government employment and are spoken of disparagingly in text books and by some Sunni officials and state-funded clerics.
They also complain of restrictions on setting up places of worship and marking Shi'ite holidays, and say Qatif and al-Ahsa, another region with a large Shi'ite population, receive less state funding than Sunni communities of equivalent size.
The Saudi government denies charges of discrimination.
King Abdullah has appointed three Shi'ites to the 150-strong advisory Shura council and included Shi'ite leaders in "national dialogue" meetings where officials hear from representatives of groups in society.
Euro News