Catalonia Cancels Vote to Secede From Spain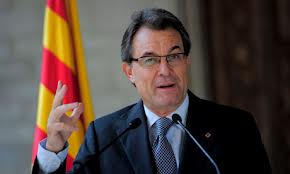 With a referendum on independence blocked by objections from Madrid, Catalonia's leader said Tuesday that the Spanish region would go ahead next month with a nonbinding vote on secession.
In his latest act of defiance toward Madrid, Artur Mas, the Catalan leader, called off his push for a secession vote next month but announced that the regional Catalan government would instead urge its citizens to take part in a looser, nonbinding consultation on the same date. He added that his government had the right to organize such an expression of popular will and that doing so would not violate Spanish law.
"We have sufficient strength to do what we said we would do, which is to consult the people of Catalonia," Mr. Mas said at a televised news conference. "There will be ballot boxes and papers" on Nov. 9, he added.
His alternative plan is less likely to push Spain into a constitutional crisis, even if it creates, at least for now, further political and legal uncertainty and continues to be opposed by the central government of Prime Minister Mariano Rajoy. An informal ballot would also struggle to receive the international legitimacy that Mr. Mas had hoped to achieve with a vote.
In the coming weeks, Mr. Mas also faces a significant challenge in keeping other pro-independence parties aligned with his governing Convergence party. "We continue to go forward, but at the moment not as united as 10 days ago," he said.
Mr. Mas, a late but staunch convert to secessionism, has been trying to lead Catalonia toward independence without being held responsible for provoking an unprecedented crisis for Spain. Catalonia, Spain's economic powerhouse, has been pushing for a vote on secession that the central government has vowed to block. Mr. Rajoy is also counting on the support of Spain's Constitutional Court.
Mr. Mas and Mr. Rajoy have been at loggerheads for two years, initially over fiscal issues. However, tensions came to the fore late last month, when Mr. Mas signed a decree approving the Nov. 9 vote. Mr. Mas contends that his position had been made untenable by Mr. Rajoy's refusal to talk, even after Scotland rejected independence from Britain in a referendum in September.
Mr. Rajoy's government has steadfastly refused to allow Catalans to vote on independence and, if anything, has been emboldened by the failure of the Scottish push for secession.
Earlier on Tuesday, Mr. Rajoy described the cancellation of the Catalan vote as "excellent news." He said at an economic conference in Madrid that "Spain is a democracy and an advanced country, and to comply with the law is an obligation for everybody."
But Mr. Mas later sought to dampen Mr. Rajoy's celebration.
"There are people who say they have excellent news, but excellent news sometimes lasts only a few hours," Mr. Mas said. He added that his government had "competencies in terms of consultation" of its citizens, without specifying how his latest plan could be deemed legal by Spanish courts.
Continue reading the main storyContinue reading the main storyContinue reading the main story
Mr. Mas must now hope a nonbinding referendum can generate sufficient popular enthusiasm amid discord among the main secessionist parties and without legal guarantees from the government of Spain.
However, the possibility that Mr. Mas will instead eventually switch to a longer-term strategy to achieve an independent Catalonia, by calling for new elections for the regional Parliament, raises the prospect that Mr. Rajoy will end up facing a Catalan Parliament controlled by more hard-line secessionist politicians than Mr. Mas.
Mr. Mas changed tack on Tuesday after a long, tense meeting with other secessionist politicians on Monday, during which he failed to gain their support for his latest consultation plan. After that meeting, Esquerra Republicana de Catalunya, a left-wing secessionist party that has the second-largest representation in Catalonia's Parliament, issued a statement suggesting that it wanted new elections to move swiftly toward a unilateral declaration of independence.
"I don't consider what happened yesterday as the burial of the consensus in Catalonia," Mr. Mas said. "The real adversary isn't within Catalonia, but it is the Spanish state, which is doing everything possible to deny us the right to vote."
Mr. Mas was also forced to forget his voting decree after the Constitutional Court recently ordered the suspension of the Catalan voting campaign pending a final ruling on its legality. The court could take as long as five months to rule.
Still, Mr. Mas insisted that the vote on Nov. 9 would look similar to what had initially been planned, organized with the help of more than 20,000 volunteers, held in polling stations across Catalonia and with the backing of 920 town halls that recently voted in favor of a secession ballot in November.
On Tuesday, Mr. Rajoy suggested that he would be willing to reopen talks with Mr. Mas, if his voting plan was shelved. "We need to dialogue and speak," Mr. Rajoy said.
Mr. Mas has fanned expectations for independence among Catalans since a falling out with Madrid in 2012, after Mr. Rajoy rejected a Catalan request to reduce its contribution to a Spanish system that redistributes tax revenues from richer to poorer regions.
The fiscal dispute coincided with hundreds of thousands filling downtown Barcelona on Catalonia's national day to push for independence. Catalonia has 7.5 million people, 16 percent of Spain's population, and it accounts for 19 percent of the nation's output.
NY Times