Kerry pushes for ME peace, Qatar pledges $1 billion for Gaza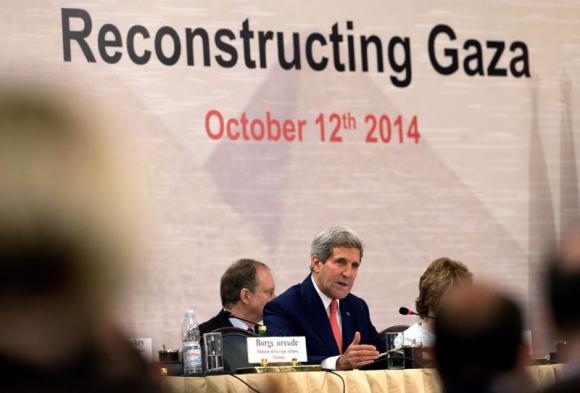 U.S. Secretary of State John Kerry called on Sunday for a renewed commitment to achieving Middle East peace, saying a lasting deal between Israel, the Palestinians and all their neighbors could be achieved.
But prospects for a renewed peace process appeared dim as Kerry offered no specifics on how to restart negotiations in his speech to a Gaza reconstruction conference in Cairo.
The last round of U.S.-brokered peace talks, presided over by Kerry, foundered in April over Israeli objections to a Palestinian political unity pact that included the Islamist Hamas movement and over Palestinian opposition to unremitting Israeli settlement expansion.
"Out of this conference must come not just money but a renewed commitment from everybody to work for peace that meets the aspirations of all, for Israelis, for Palestinians, for all people of this region," Kerry told the conference.
"And I promise you the full commitment of President (Barack)Obama, myself and the United States to try to do that," he said.
At the conference Kerry also announced an additional $212 million in U.S. aid to Palestinians in the Gaza Strip, which was badly damaged during a conflict with Israel in July and August in which 2,100 Palestinians died, most of them civilians.
An estimated 18,000 homes and vital infrastructure were destroyed in the seven-week war. The Palestinians have put the cost of reconstruction at about $4 billion over three years.
Among countries offering reconstruction aid for Gaza, Qatar offered $1 billion, Kuwait and United Arab Emirates promised $200 million each and Turkey pledged $200 million.
France said it would contribute 40 million euros ($50.50 million) to the Palestinians and Germany offered 50 million euros. Britain's ambassador to Egypt, John Casson, told Reuters London would provide $32 million for the reconstruction efforts.
"We can't allow people in Gaza to sink into despair," German Foreign Minister Frank-Walter Steinmeier said in a statement.
EGYPT CALLS FOR PEACE DEAL
Egypt, which brokered the current ceasefire between Israel and the Palestinians in August, used the conference to renew its call for a wider Middle East peace deal based on a 2002 Arab initiative, which Israel has rejected.
"We should turn this moment into a real starting point to achieve a peace that secures stability and flourishing and renders the dream of coexistence a reality, and this is the vision of the Arab peace initiative," Egyptian President Abdel Fattah al-Sisi said in his opening speech.
The Arab peace initiative was floated by Saudi Arabia in 2002 and offers full recognition of the Jewish state, but only if it gives up all land seized in the 1967 Middle East war and agrees to a "just solution" for Palestinian refugees.
Also speaking in Cairo, Palestinian leader Mahmoud Abbas said the 2002 Arab plan could be the framework for a new comprehensive approach to the Palestinian-Israeli conflict.
Successive Israeli governments have rejected the Arab initiative but Prime Minister Benjamin Netanyahu recently suggested a greater role for Israel's Arab neighbors in the pursuit of peace.
Netanyahu has shown little, if any, appetite for concessions toward the Palestinians in any renewed pursuit of a peace deal.
In his White House talks with Obama this month, he made clear that his priority was to prevent the United States and other world powers from going easy on Iran, Israel's regional arch-foe, in nuclear talks that are entering a critical phase.
Netanyahu has insisted that a nuclear-armed Iran would pose a greater threat than Islamic State fighters who have seized swathes of Iraq and Syria.
Israel was not represented at the conference, but some of the speakers pressed for it to do more to change the status quo with the Palestinians which many said was unsustainable.
U.N Secretary-General Ban Ki-moon told the conference: "We must not lose sight of the … causes of the recent hostilities, of a certain occupation that has lasted almost half a century, the continued denial of Palestinian rights and the lack of tangible progress in peace negotiations."
Dozens of countries are attending the Cairo meeting. The Palestinian Authority hopes that moves by a new unity government towards assuming control in Hamas-dominated Gaza could make wealthy donor states less wary of providing reconstruction aid.
Israel and the United States consider Hamas a terrorist organization.
(1 US dollar = 0.7920 euro)
Reuters