Donors to meet at Cairo conference to discuss rebuilding Gaza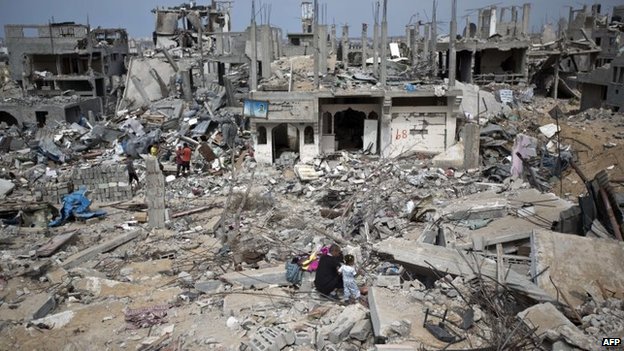 Diplomats are set to meet in Egypt to discuss aid required to rebuild Gaza following a 50-day conflict between Israel and Hamas militants.
At least 100,000 people in Gaza have lost their homes due to the war damage, and much of the territory's infrastructure has been destroyed.
The Palestinian Authority is appealing for $4bn (£2.5bn) to rebuild Gaza.
However, donors are concerned that another war could erupt in the future, undermining any reconstruction efforts.
The seven-week conflict, which ended in a truce on 26 August, killed more than 2,100 Palestinians, most of them civilians, along with 66 Israeli soldiers and seven civilians in Israel.
Correspondents say some neighborhoods in Gaza resembled earthquake zones following intense bombardment from Israel during the war. The Israeli air strikes had sought to halt rocket-fire from Gaza.
Envoys from dozens of countries will be at Sunday's Cairo conference. Gulf and European countries, as well as the US, are expected to pledge funds for Gaza's reconstruction.
However, US officials stressed the need to break the cycle of conflict between Israel and Palestinian militants, adding that many donors were concerned there would be more fighting.
The EU envoy to the Palestinian territories, John Gatt-Rutter, told AFP news agency that the "only durable solution to Gaza is of course a political agreement between Palestinians and Israelis".
Contentious issue
The two sides have fought three wars in six years.
Plenty of promises are expected at the conference, but finance is only one concern, the BBC's Orla Guerin in Cairo reports.
Rebuilding depends on Israel allowing in enough construction materials – a contentious issue because Hamas has used cement to build tunnels into Israeli territory in the past, our correspondent adds.
The Gaza Strip, sandwiched between Israel and Egypt, has been a recurring flashpoint in the Israel-Palestinian conflict for years.
Israel occupied Gaza in the 1967 Middle East war and pulled its troops and settlers out in 2005. Israel considered this the end of the occupation, but it still exercises control over most of Gaza's borders, waters and airspace. Egypt controls Gaza's southern border.
BBC