Is the Wall Street party over?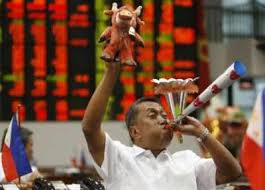 With several global market indexes hitting seven-month lows, and commodities hitting four-year lows, investors are beginning to wonder if the 5 1/2 year bull party is over? Worries about weak worldwide economic growth continued to take a toll on investor confidence.
The Dow fell another 115 points Friday on top of 343 points on Thursday prompting investors to scrambled to reduce big bets in risky assets after reaping big gains from a practically uninterrupted rally in the past three years. The Dow has gone from 6,500 to 17,300 since March of 2009. The "can't lose mentality" has created an Investor Intelligence bullish consensus of 86%. The highest it's been in 27 years.
The CBOE Volatility Index or VIX, the market's measure of anxiety, reached a high of 22.06 on Friday, the highest intraday level since December 2012, as more investors paid for protection against further declines.
Expectations for improved growth have been hit by a recent rash of weak indicators especially from Europe, China, and Japan who face their own challenges. In the meantime the U.S. Federal Reserve is expected to tighten monetary policy. In the face of such weakness, this move could prove to be economic poison.
Jim Mcdonald of Northern Trust Asset Management said " investors are selling first and asking questions later" right now.
Investors have been speculating that the ECB will be forced to launch a sovereign bond-buying program, similar to the Fed's quantitative easing to combat The Euro Zone falling into a deflationary spiral.
It appears that with the proportion of the sell off so large relative to the lack of change in the fundamentals, the market may be signaling the investor party is finally over and reality is beginning to set in to the financial world as it has everywhere else.
FXC News