Iraq appeals for help in Anbar against Islamic State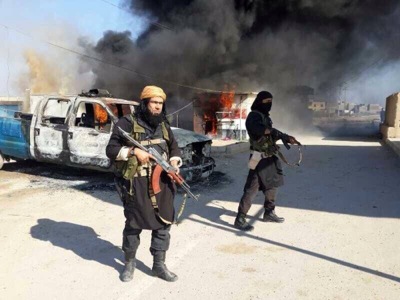 Iraqi officials have made an urgent appeal for military help in the western Anbar province, saying the area could fall to Islamic State (IS) militants.
The jihadist group has been attacking the provincial capital Ramadi, and has seized army bases in the area.
A US official told AFP news agency the situation in Anbar was "fragile".
IS fighters control large stretches of territory in Syria and Iraq. They are also fighting for control of the Syrian border town of Kobane.
Anbar is a strategically important province, and home to Iraq's second-largest dam, the Haditha dam.
Seizing Anbar would give IS control of a stretch of territory across much of Syria and Iraq, enabling it to establish a supply line and potentially launch attacks on the Iraqi capital, Baghdad.
'Fall in days'
Anbar's provincial council submitted a request to the Iraqi government asking for US ground troops to help fight IS militants, Iraq's Al-Sharqiyah TV reported.
The US military has carried out several air strikes on IS militants, preventing them from seizing the Haditha dam. However, IS militants are still advancing in the province.
The vice-president of the council, Faleh al-Issawi, warned that Anbar could "fall in 10 days", The Times newspaper reported.
Fighting in Kobane, the Kurdish town on the Syria-Turkey border, had diverted international attention from the IS advance in Anbar, he added.
A US defence official, speaking on condition of anonymity, told AFP that the situation in Anbar was "tenuous".
"They are being resupplied and they're holding their own, but it's tough and challenging."
Iraqi government troops were unable to effectively combat the IS threat, US officials added.
'Massacre likely'
Islamic State forces have continued to take ground inside the Syrian border town of Kobane.
They have overrun the headquarters of the Kurdish militia, and have all but encircled the town despite continuing air strikes by the US-led coalition.
On Friday, the UN special envoy to Syria warned that up to 700 people were trapped in the town.
Staffan de Mistura said that the civilians would "most likely be massacred" if the town fell to IS.
Kurdish forces, who are being helped by US-led coalition strikes against IS, say they urgently need more weapons and ammunition to push back the militants' advance in the town.
Neighbouring Turkey has so far ruled out any ground operation on its own against IS.
Turkey is reluctant to get involved militarily, partly because it is concerned about arming the Kurdish forces who are fighting the IS militants. Turkey fought a long civil war with its Kurdish minority.
IS says it aims to establish a "caliphate", a state ruled by a single political and religious leader according to Islamic law, or Sharia.
It has become known for brutal tactics, including mass killings, abductions of members of religious and ethnic minorities, and the beheadings of soldiers and journalists.
BBC