UN warns: Thousands 'will most likely be massacred' if Kobani falls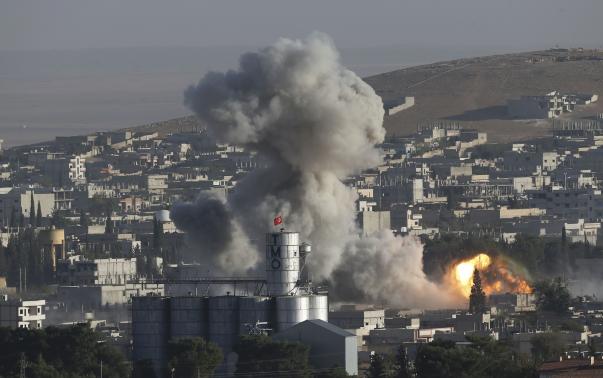 Thousands of people "will most likely be massacred" if Kobani falls to Islamic State fighters, a U.N. envoy said on Friday, as militants fought deeper into the besieged Syrian Kurdish town in full view of Turkish tanks that have done nothing to intervene.
U.N. envoy Staffan de Mistura said Kobani could suffer the same fate as the Bosnian town of Srebrenica, where 8,000 Muslims were killed by Serbs in 1995, Europe's worst atrocity since World War Two, while U.N. peacekeepers failed to protect them.
"If this falls, the 700, plus perhaps the 12,000 people, apart from the fighters, will be most likely massacred," de Mistura said, referring to U.N. estimates for the number of Kurdish fighters defending the town and the total number of people believed trapped inside it.
"Do you remember Srebrenica? We do. We never forgot and probably we never forgave ourselves," said de Mistura, the U.N. peace envoy for Syria. "When there is an imminent threat to civilians, we cannot, we should not, be silent."
The plight of mainly Kurdish Kobani has unleashed the worst street violence in years in Turkey, which has 15 million Kurds of its own. Turkish Kurds have risen up since Tuesday against President Tayyip Erdogan's government, which they accuse of allowing their kin to be slaughtered.
At least 31 people have been killed in three days of riots and street violence across the mainly Kurdish southeast, including two police officers shot dead in an apparent attempt to assassinate a police chief. The police chief was wounded.
Intense fighting between Islamic State fighters and outgunned Kurdish forces in the streets of Kobani could be heard from across the border. Warplanes roared overhead and the western edge of town was hit by an air strike, apparently by U.S.-led coalition jets which have intensified a campaign against Islamic State targets around Kobani in recent days.
But even as it has increased its bombing of the area, Washington has acknowledged that its air support is unlikely to be enough to save the city from falling.
FIERCE CLASHES
The Syrian Observatory for Human Rights, which monitors the war, said Islamic State fighters had advanced into Kobani and now controlled at least 40 percent of it, including its central administrative area, known as the "security quarter".
Ocalan Iso, deputy head of the Kurdish forces defending the town, told Reuters that Islamic State fighters were still shelling the centre, which proved it had not yet fallen.
"There are fierce clashes and they are bombing the centre of Kobani from afar," he said, estimating the militants controlled 20 percent of the town. He called for more U.S.-led air strikes.
The Middle East has been transformed in recent months by Islamic State, a Sunni militant group that has seized swathes of Syria and Iraq, crucifying and beheading prisoners and ordering non-Muslims and Shi'ites to convert or die.
The United States has been building a military coalition to fight the group, which requires intervening in both Iraq and Syria, countries with complex multi-sided civil wars in which nearly every state in the region has allies and enemies.
International attention has focused on Turkey, a NATO member with the biggest army in the region, which has absorbed 1.2 million Syrian refugees, including 200,000 from Kobani in the last few weeks. Erdogan has so far refused to join the military coalition against Islamic State or use force to protect Kobani.
"We would like to appeal to the Turkish authorities … to allow the flow of volunteers, at least, and their own equipment in order to be able to enter the city and contribute to a self-defence action," the U.N. envoy de Mistura said in Geneva.
FURY IN ANKARA
The Kurdish uprising in Turkey provoked a furious response from the Turkish government, which accuses Kurdish political leaders of using the situation in Kobani to destroy public order in Turkey and wreck its own delicate peace process.
Turkish Kurds fought a decades-long insurgency in which 40,000 people were killed. A truce last year has been one of the main achievements of Erdogan's decade in power, but jailed Kurdish leader Abdullah Ocalan has said the peace process would collapse if Turkey permits Kobani to fall.
In a televised speech on Friday, Erdogan accused Kurdish leaders of "making calls for violence in a rotten way".
"The peace process does not mean turning a blind eye to this rotten behaviour. The peace process does not mean tolerating illegality."
The three days of riots in southern Turkey were the worst street violence in many years, and the attempted assassination of a police chief was the first incident of its kind since 2001.
The police chief and another policeman were seriously injured and two officers killed on Thursday by unidentified gunmen who opened fire with automatic weapons as the officers inspected shops damaged in earlier unrest in the eastern province of Bingol, according to Dogan News Agency.
GUNS AND SWORDS
Four of the alleged attackers were later killed and two more caught after a shootout with security forces, Dogan reported. No one claimed responsibility. Prime Minister Ahmet Davutoglu blamed "terrorists", giving no further details of the attackers.
The southeastern border province of Gaziantep saw some of the worst violence overnight, with four people killed and 20 wounded as armed clashes broke out between protesters calling for solidarity with Kobani and groups opposing them.
Footage showed crowds of mostly men armed with guns, swords and sticks roaming the street of Gaziantep. Two local branches of the Kurdish People's Democratic Party (HDP) in Gaziantep were set on fire, Dogan reported.
"It is not possible to explain with logic the actions of those who say they are worried about a disaster in Kobani trying to drive their own country into a disaster," Huseyin Celik, the ruling AKP's parliamentarian for Gaziantep said.
Selahattin Demirtas, co-chair of HDP, Turkey's main Kurdish party, has called for calm and for protests to remain peaceful.
Turkey says it would join an international coalition to fight against Islamic State only if the alliance also confronts Syrian President Bashar al-Assad's government. Erdogan wants a no-fly zone to prevent Assad's planes from flying over the area near its border and a protected buffer zone there for refugees.
Washington has said it is studying the idea but has made clear it is not an option for now. Imposing a no-fly zone or buffer zone would require the United States to take on the air force of Assad's government, which so far has not objected to U.S. flights over Syrian territory to strike Islamic State.
Deputy U.S. National Security Adviser Tony Blinken said the idea is "not on the front burner".
Reuters