Kobane holds out against IS as US urges Turkey to get involved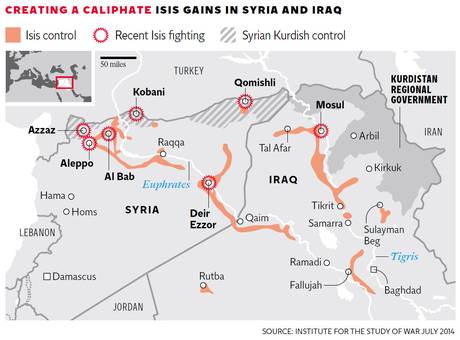 The US on Thursday urged Turkey to join the fight against advancing Islamic State fighters, who have seized part of the key Syrian border town of Kobane despite US-led air strikes.
In fighting that killed dozens, calls grew for ground action to support Kobane`s beleaguered Kurdish defenders.
But after talks with NATO chief Jens Stoltenberg, Turkish Foreign Minister Mevlut Cavusoglu said Ankara could not be expected to act alone.
"It`s not realistic to expect that Turkey will lead a ground operation on its own," he said.
There has been disappointment in Washington and elsewhere that Ankara has yet to commit its well-equipped and well-trained forces to the fight against the militants, also known by the acronym ISIL.
Two top US envoys — Retired general John Allen and US pointman on Iraq, Brett McGurk, — met Thursday in Ankara with Turkish leaders seeking to win their NATO ally`s support to defeat the Islamic State (IS) group, which has seized a swath of territory in Iraq and Syria.
Washington also announced that a joint US-Turkish military team will meet next week in Ankara to discuss the fight against the Islamist militants.
"There is no question that Turkey is well-positioned to contribute," in areas including military cooperation, US State Department spokeswoman Jen Psaki said, while stressing "it`s not a situation where we are making demands".
Iran`s Deputy Foreign Minister Amir Abdollahian, whose country is a close ally of the Syrian regime, said Tehran was in talks with Turkey on saving Kobane "and we hope it can play an important role".Kobane, where Kurdish militia are still holding out after a three-week siege by the jihadists, has become a crucial battleground in the fight against the IS group.
With the global media gathered just across the border in Turkey, its conquest would be a highly visible symbolic victory for the extremists.
US-led aircraft pounded Islamic State militants near Kobane on Thursday as officials said the jihadists` bid to seize the Syrian border town had exposed them to warplanes overhead.
The US military`s Central Command reported 14 strikes near Kobane on Thursday.
In a statement earlier on Thursday, Central Command said Kurdish fighters appeared to control most of Kobane and were "holding out" against IS forces.
The Syrian Observatory for Human Rights agreed that "indications are that Kurdish militia there continue to control most of the city and are holding out".But a Kobane refugee in Turkey said "air strikes are not helpful alone. We need heavy weaponry and tanks to support a ground operation".
Street battles have been raging since the IS group breached Kobane`s defences earlier this week, though the jihadists pulled out of some areas before attacking again.
Eleven IS fighters were killed Thursday, after at least 42 jihadists died Wednesday, more than half of them in coalition strikes, as well as 15 Kurdish fighters.
Clashes were ongoing in northeastern Kobane, where the Kurdish command is based, and were particularly fierce in the town`s southwest.
Since the IS assault on Kobane began in mid-September, nearly 500 people have been killed in and around the town and 300,000 have fled the region.
Kobane, also known as Ain al-Arab, would be a major prize for the jihadists, giving them unbroken control of a long stretch of the border.
The extremists have seized large parts of Iraq and Syria, declaring an Islamic "caliphate" and committing widespread atrocities.
Washington launched an air campaign against the IS group in Iraq in August, and last month expanded it to Syria with the participation of Arab allies.After meeting defence chiefs on Wednesday, US President Barack Obama admitted the fight against IS militants would not be easy.
"This is not something that is going to be solved overnight," he said.
The Pentagon said coalition aircraft were hitting the IS organisation at every opportunity but that, without a force on the ground to work with, there were limits to what could be done.
The Turkish response has been complicated by concerns over emboldening Kurdish separatists who have waged a deadly insurgency for three decades.
Pro-Kurdish protesters angered by Turkey`s lack of action have clashed with police for three nights running, sparking violence that has claimed at least 23 lives and forced the authorities to impose a curfew in six provinces.
Protests and sporadic clashes have also erupted in Europe.
More than 1,000 Kurds took to the streets in Germany on Wednesday night, after unrest in the northern port city of Hamburg injured 23 people the previous night.
Turkey has been calling for a buffer zone to protect its border and provide some protection for fleeing Kurds, but Russia said Thursday any such plan would need the UN Security Council`s approval.
More than 180,000 people have been killed in Syria since an uprising against President Bashar al-Assad`s regime began in 2011 and evolved into a multi-front civil war that has drawn thousands of jihadists from overseas.
Regime air strikes killed at least 25 people on Thursday, including four children, in the town of Irbin, near Damascus, the Observatory said, adding that the toll was expected to rise.
Zee/AFP