IAEA: Iran Still Blocking Investigation of Nuclear Program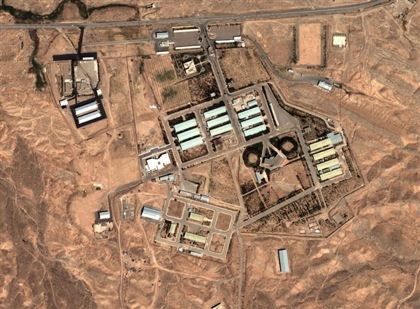 The International Atomic Energy Agency said Thursday that Iran continues to block investigation of its nuclear program by failing to propose measures that would enable the UN watchdog to rule out a military dimension to the program.
Iran was supposed to have submitted such proposals six weeks ago.
An IAEA team returned to the agency's headquarters in Vienna on Thursday after holding several meetings in the Iranian capital within the November 2013 Framework for Cooperation.
The two sides discussed "the implementation of the two practical measures relating to the initiation of high explosives and to neutron transport calculations, agreed in May 2014 in the third step of the Framework for Cooperation," the IAEA said in a statement.
"Iran did not propose any new measures during the meetings in Tehran. Iran and the Agency agreed to meet again, at a date to be announced," the IAEA said.
Iranian Foreign Minister Mohammad Javad Zarif and the European Union's foreign policy chief, Catherine Ashton, are supposed to meet in Vienna next week.
U.S. Secretary of State John Kerry is also expected to attend.
The West fears Iran intends to obtain the materials and information needed to develop nuclear weaponry, an accusation denied by Tehran. But the Iranian government refuses to reveal the information to IAEA inspectors to prove its peaceful intentions.
The process of uranium enrichment is at the center of the dispute, as it can be used for either peaceful or military purposes.
Mysterious blast
The massive blast at an Iranian nuclear plant earlier this week remains shrouded in mystery, but it cleared up one thing, according to those who track the Islamic Republic: The nuclear weapons program Tehran has long denied is real.
The massive blast Sunday night rocked buildings more than 10 miles away, and before-and-after satellite images published by the Israel Defense Force showed startling destruction at a facility Iran has repeatedly barred international inspectors from entering.
"[The] images indicate that a complete section of structures was simply eliminated by an unexplained explosion," IDF analyst Ronen Solomon said. "The explosion wiped several testing units off the face of the earth while inflicting collateral damage on adjacent buildings."
Iran, which initially denied an explosion took place, was forced a day later to own up to a blast, via the IRNA official Iranian news agency. The report said two people had been killed as a result of a fire at the site. The true casualty figure may never be known.