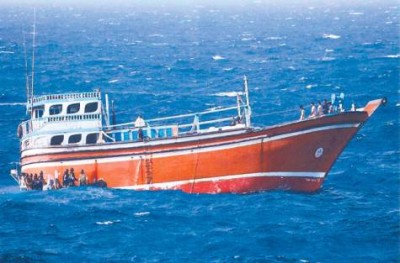 Intelligence information from Dubai Police's Anti-Narcotics Department led to the seizure of 5,364kg of hashish, which was dubbed the biggest hashish bust this year worldwide, police revealed at a press conference on Sunday.
Maj Gen Al Mazeina said that initially the coalition forces stopped the boat and searched it, but found no drugs. "They contacted us again and we informed them that the information we had is very accurate and confirmed that the boat was carrying drugs. On September 18, they searched the boat again and found the drug."
The suspects will be handed over to the country from where the boat left for legal procedures, he said.
Dubai Police received a thank you letter from the US Consulate for its great role in the success of this operation.
Between 2013-2014, Dubai Police have supplied information that helped in four major international drug busts, including this one, Maj Gen Al Mazeina said.
On June 11, 2013, Dubai Police helped bust 350kg of hashish and 500kg of methamphetamine (locally known as shabu) and in December 1, 2013 it helped with the seizure of 539kg of heroin.
On April 23, 2014, there was the "Ocean Coast" operation, which was said to be the biggest high-sea drug bust on record, where a total of 1,032kg of heroin was seized.
This brings the total of international busts that were possible due to intelligence from Dubai Police in the last two years to 5,714kg of hashish, 1,571kg of heroin and 500kg of methamphetamine.
Gulf News