Expectations low for improved US-Iran relations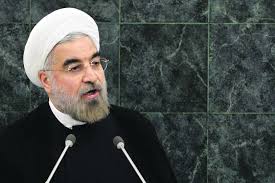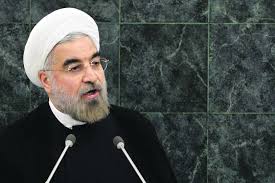 Stalled nuclear talks and the delicate diplomacy surrounding the fight against Islamic extremists have lowered expectations for a rapid warming of relations between Iran and the United States as the Iranian leader returns to speak at the United Nations on Thursday.
President Hassan Rouhani's election last year signaled a thaw in more than three decades of U.S-Iranian hostilities, leading to a landmark phone conversation with President Barack Obama during last year's U.N. General Assembly, which was Rouhani's first as president.
It was the first direct exchange between the two countries' leaders in 35 years and prompted speculation of a rapprochement between the nations and, maybe, even a meeting between the two men. It also resulted in an interim nuclear deal last year, which in turn led to ongoing talks on a long-term pact.
But while lower-level officials from both countries are now in regular contact, those follow-up nuclear talks have seen little progress of late.
Rouhani's address to world leaders will be watched closely by the U.S. administration, although he is not expected to go substantially beyond what he has said before. He likely will focus on the global threat posed by Islamic State group militants, and on Tehran's push to have crippling economic sanctions lifted while keeping its nuclear program intact.
Tehran is resisting U.S. calls that it gut a nuclear program that enriches uranium, a process that can make both reactor fuel and the fissile core of a nuclear warhead. With a Nov. 24 deadline approaching, failure to seal a deal could see a return to confrontation, including U.S. and Israeli threats of military means as a last resort to slow Iran's nuclear program.
"My message to Iran's leaders and people is simple: Do not let this opportunity pass," Obama said Wednesday in his own address to world leaders.
The disagreement has complicated efforts to cooperate in fighting the Islamic State group menace.
Iraq sees Shiite powerhouse Iran as a go-between which could bring its influence to bear in the region against the group's Sunni extremists. While the U.S. has ruled out cooperating militarily or sharing intelligence with Iran, Secretary of State John Kerry said this week that he was "open to have a conversation at some point in time if there's a way to find something constructive."
In his address to world leaders late Wednesday, British Prime Minister David Cameron said Iran could help in defeating the terror group's threat. Cameron spoke hours after meeting in person with Rouhani, the first meeting between the British and Iranian leaders since the Iranian revolution in 1979.
In comments on the eve of his own General Assembly speech, Rouhani suggested his country was ready to join Washington and others in opposing the Islamic State group. But he said the U.S. needed to move beyond "insignificant" fears that his country seeks nuclear arms.
At the same time, he was critical of the U.S. bombing campaign of Islamic State group strongholds and the growing coalition of countries seeking to stop the extremists by military means. "Bombing and airstrikes are not the appropriate way," Rouhani said, warning that "extraterritorial interference … in fact only feeds and strengthens terrorism."
There are other issues. American officials are furious with Iran for detaining Jason Rezarian, a Washington Post journalist who has both American and Iranian citizenship, as well as his wife.
Iranian officials have not specifically said why the couple is being held, and Rouhani has dodged questions about their fate. Asked again Wednesday about Rezarian, he said he would be freed if he is innocent of any crime.
"We must not prematurely express opinions about a case that hasn't reached the court yet," Rouhani said.
Fox news