U.S. wins support of 10 Arab states for Syria/Iraq military campaign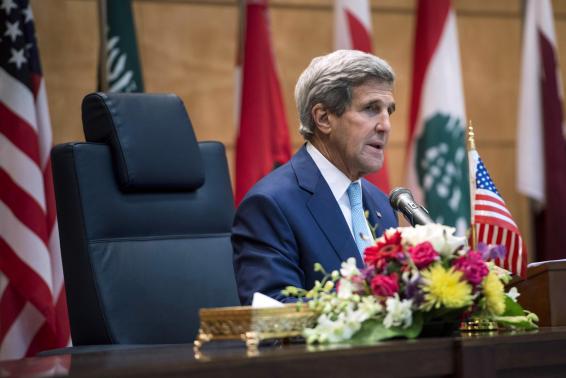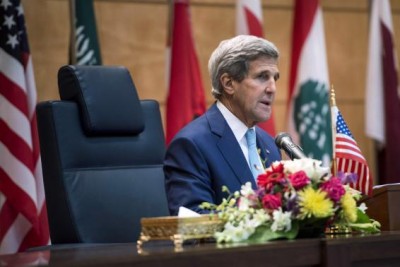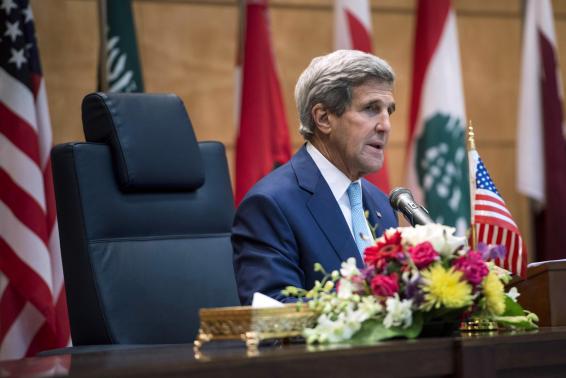 The United States signed up Arab allies on Thursday to a "coordinated military campaign" against Islamic State fighters, a major step in building regional support for President Barack Obama's plan to strike both sides of the Syrian-Iraqi frontier.
After talks in Saudi Arabia's summer capital Jeddah, Secretary of State John Kerry won backing from 10 Arab countries – Egypt,Iraq, Jordan, Lebanon and six Gulf states including rich rivalsSaudi Arabia and Qatar – for a coalition to fight the Sunni militants that have seized swathes of Iraq and Syria.
Turkey, a non-Arab Sunni power, also attended the talks. But two other powerful regional players – Shi'ite Iran and Syria itself – were excluded, a sign of the difficulty of building a coalition across the Middle East's sectarian battle lines.
The Arab states agreed in their communique to do more to stop the flow of funds and fighters to Islamic State and help rebuild communities "brutalized" by the group.
"The participating states agreed to do their share in the comprehensive fight against ISIL, including … as appropriate, joining in the many aspects of a coordinated military campaign against ISIL," they said, using the acronym for Islamic State inIraq and the Levant, a former name for the group.
Kerry said the Arab states would play a critical role in the coalition, although he added that no country in the alliance was talking about sending ground troops.
He met the Arab leaders to drum up support a day after Obama announced his plans to strike fighters in Iraq and Syria. U.S. officials said Kerry also sought permission to make more use of bases in the region and fly more warplanes overhead, issues that were not mentioned in the communique.
In a hopeful sign of outreach across the sectarian divide that has spread war across the Middle East and fed Islamic State's militancy, Sunni Saudi Arabia said it might open an embassy in Shi'ite-ruled Iraq after decades of suspicion.
The Saudis, who support other Sunni armed movements in Syria but consider Islamic State a terrorist group, have also promised to help Obama's campaign by providing training camps for moderate Syrian Sunni fighters.
But Iran, the main Shi'ite power in the Middle East and supporter of Syria's President Bashar al-Assad, said it had severe reservations over the new U.S.-led coalition, and doubted it would fight "the root causes of terrorism", which it blames squarely on Sunni Arab states like Saudi Arabia.
Obama announced his plans in a prime time address on Wednesday to build an alliance to root out Islamic State in both Syria and Iraq, plunging the United States into two conflicts in which nearly every country in the Middle East has a stake.
The region has been galvanized since June when Islamic State fighters, already in control of much of Syria, swept through northern Iraq, seizing cities, slaughtering prisoners, and proclaiming a "caliphate" that would rule over all Muslims.
The White House says the group is a threat to the West as well, attracting fighters from around the world who could return to carry out attacks at home.
Islamic State is a Sunni group that embraces a radical vision of a Middle East ruled along 7th century precepts. Its fighters are battling a Shi'ite-led government in Iraq and a Syrian government led by Assad, a follower of an offshoot of Shi'ite Islam. They are also fighting against more moderate Sunnis in Syria and against Kurds on both side of the frontier.
An alliance against Islamic State is bound to require cooperation from countries that consider each other enemies. Washington itself supports the Shi'ite-led government in Iraq but opposes Assad in Syria; it is allied to most Sunni Arab states while hostile to Iran.
A State Department official traveling with Kerry said the top U.S. diplomat would the ask allies to make room for U.S. military activity: "We may need enhanced basing and overflights … there's going to be a meeting soon of defense ministers to work on these details."
Kerry would also urge regional television news outlets, particularly Qatari-owned Al Jazeera and Saudi-owned Al Arabiya, to air anti-extremist messages. Governments in the region would be urged to press mosques to preach against Islamic State.
"They need to get at the clerics because the clerics can get at the mosques in the neighborhood and they have to expose ISIL for what it is," the official told reporters.
Washington also wants more efforts to stop the flow of money to the group by tackling oil smuggling and cracking down on contributions from private donors, the official said.
TRAINING CAMPS
Saudi Arabia has agreed to host training camps for moderate Syrian rebels, mostly Sunnis who oppose Islamic State. Riyadh has long pressed Washington to take a bigger role in aiding moderate Syrian Sunni rebels it sees as the best hope of tackling both Islamic State and the ambitions of its own main regional rival Iran.
Tehran, for its part, blames Gulf Arabs for stoking the Sunni militancy that led to Islamic State's rise. Foreign ministry spokeswoman Marzieh Afkham, speaking on state television about the U.S.-led alliance, said there were "severe misgivings about its determination to sincerely fight the root causes of terrorism".
The prospect of U.S. armed action in Syria also drew concern from Russia, which has backed Assad. In Moscow, the Foreign Ministry said air strikes in Syria would require a U.N. Security Council mandate or be considered an act of aggression.
Kerry said he was surprised by such a statement in view of events in Ukraine – a separate international crisis where Washington says Moscow has sent troops, which Russia denies.
On Wednesday, before Obama's speech announcing the new campaign, Kerry visited Baghdad and endorsed a new power-sharing government for Iraq, led by a Shi'ite, Haider al-Abadi, but also including Sunnis and Kurds.
Abadi was named last month to replace Nuri al-Maliki, blamed at home and abroad for partly provoking Islamic State's surge by alienating Sunnis from his government. Washington had long said that forming an inclusive government in Iraq was necessary before it would commit to major military action.
Kerry called Abadi's new Shi'ite-led government "the heart and backbone" of the fight against Islamic State.
Saudi Foreign Minister Prince Saud al-Faisal said the kingdom might reopen its embassy in Baghdad, closed since Iraq's invasion of Kuwait in 1990. He added that the building needed to be renovated. His Iraqi counterpart Ibrahim Jaafari said the reopening of the embassy "would reflect well on relations".
Reuters