150,000 protest for Gaza in London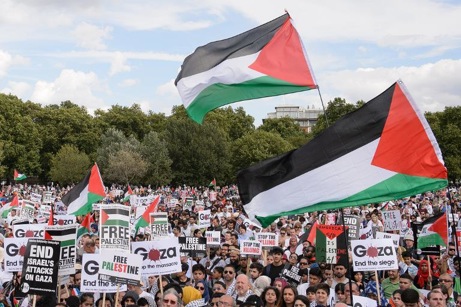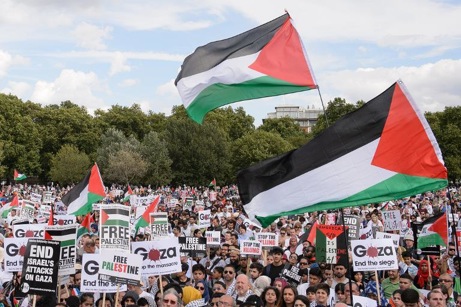 Tens of thousands of pro-Palestinian demonstrators marched through central London on Saturday, demanding Britain take a tougher line against Israel over its military assault on Gaza.
The Palestinian Solidarity Campaign said 150,000 people attended the march, the third major demonstration for Gaza in London in the past four weeks.
Protesters packed the main shopping artery of Oxford Street, marching to the US embassy and on to Hyde Park, many of them chanting "Free, Free Palestine" and holding up banners saying "UK – Stop Arming Israel".
The first two protests attracted at least 10,000 people each, according to police, although organisers said it was more like 50,000 each time. Police declined to give a number for Saturday's event.
Lindsey German, convenor of Stop the War Coalition, an umbrella group of NGOs, said: "The level of anger is unprecedented.
"The British government has remained silent whilst Israeli aerial bombardment and a ground incursion in Gaza has killed thousands.
"We are calling for an end to the massacre and the recall of the UK parliament. Our government must be forced to end its support for Israel's siege of Gaza."
There were also fresh protests in Paris, which has seen several demonstrations related to the war in recent weeks.
Several thousand people took part in the march, calling for the end of "Israeli aggression", with a heavy police presence in place to prevent the violence seen at earlier protests.
In Britain, the chairman of the Palestinian Solidarity Campaign, Hugh Lanning, told AFP recent turnouts had been "amazing".
"That level of support we have never seen before… The world supports Palestine," he said.
Sayeeda Warsi, a Foreign Office minister and the first Muslim to sit in the British cabinet, dramatically resigned on Tuesday over what she said was the government's "morally indefensible" policy on Gaza.
Prime Minister David Cameron said he regreted her decision, and said his government had expressed grave concern over the civilian casualties of the war and consistently called for a ceasefire.
On Saturday, Cameron announced that medical experts from the state-run National Health Service (NHS) would be deployed to the region within 48 hours.
"The conflict in Gaza has taken a terrible toll. The UK has been at the forefront of humanitarian efforts to help those affected and it is right that we see what more we can do," he said.
Meanwhile a public appeal for aid for Gaza by the Disasters Emergency Committee (DEC), on behalf of a number of British charities, had raised £4.5 million ($7.5 million, 5.6 million euros) since its launch on Friday.
Israeli warplanes pummelled Gaza with 40 air strikes on Saturday as militants hit back with 14 rocket attacks, leaving international mediators scrambling to rescue ceasefire talks.
yahoo/AFP