Obama signs bill granting Israel $ 225 mil for Iron Dome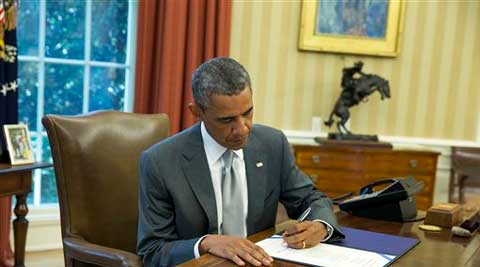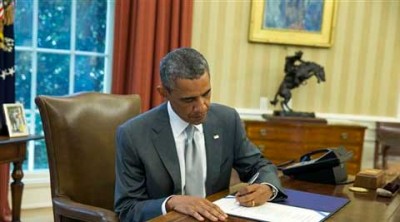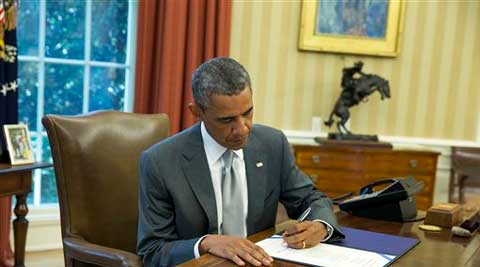 US President Barack Obama signed a bill on Monday granting an additional $225 million to Israel for the procurement of the Iron Dome missile defense system to counter short-range rocket threats.
"This funding will ensure that Israel will be able to sustain production of Iron Dome components in order to maintain adequate stockpiles of Iron Dome interceptors and equipment," White House Press Secretary Josh Earnest said after Obama signed the legislation into law.
"The United States is proud that the Iron Dome system developed in coordination with Israel and funded by the US has saved countless Israeli lives. Continued bipartisan support for Iron Dome funding ensures Israel will retain vital defense against rockets and artillery in light of the enduring threats," he said.
Earnest said the US has been clear since the start of the ongoing conflict in the Gaza Strip that no country can abide rocket attacks against its civilians.
"The US supports Israel's right to defend itself against such attacks. We also continue to call on Israeli authorities to take all feasible precautions to prevent civilian casualties in Gaza and protect the civilian Palestinian population from the effects of attacks, and we continue to stress that all parties to the conflict must comply with international humanitarian law," he said.
Both the chambers of the US Congress – House of Representatives and the Senate – had passed the legislation last week.
"With Israel once again under attack by rockets above and tunnels below, our bipartisan resolve to stand by Israel is firm and unwavering," Democratic Leader Nancy Pelosi said.
The House of Representatives Speaker, John Boehner, said the House will always support Israel's right to defend itself.
"This will help protect Israeli citizens from rocket attacks by Hamas, which still has thousands of rockets in its arsenal. By coming together in bipartisan fashion, the United States Congress is sending a clear message: Israel is our friend, and Israel's enemies are our enemies," he said.
Republican Senator John McCain said, "Israeli civilians are alive today because of Iron Dome, and American taxpayers can be extremely proud of the contribution we have made to this life-saving program."
India Express