Israeli tanks dig in as Gaza's mostly civilian death toll tops 300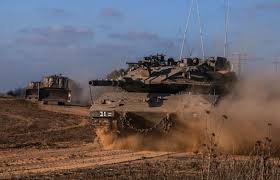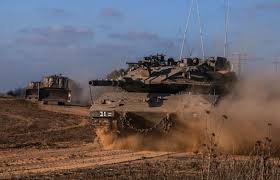 Israeli soldiers in tanks and bulldozers dug in across a mile-wide strip of eastern Gaza on Saturday as Palestinian officials said military strikes had pushed the mostly civilian death toll past 300.
The Israeli military said its engineers were concentrating on an effective buffer-zone 2.5 km (1.5 mile) wide and were looking to destroy tunnels dug in secret by Hamas after the last major fighting there in 2012.
Israel launched its ground offensive and intensive barrages from air and sea on Thursday after 10 days of fighting.
Hostilities had escalated after the abduction and killing last month of three Jewish seminary students that Israel blames on Hamas. Hamas has neither confirmed nor denied involvement. The apparent revenge murder of a Palestinian youth in Jerusalem, for which Israel charged three Jews, further fueled tensions.
Gaza officials said that at least 318 Palestinians, including 70 children, have died in the offensive Israel launched on July 8 following a surge of rocket salvoes that came as it rounded up Hamas men in the occupied West Bank.
One Israeli soldier and a civilian have been killed.
Fighters from Gaza launched 18 rockets into Israel overnight and four were shot down by its Iron Dome interceptor while the rest fell harmlessly wide, the Israeli military said.
Military spokesman, Lieutenant-Colonel Peter Lerner, said 13 tunnels, at least one of them 30 meters (90 feet) deep, and 95 rocket launchers were found and destroyed in the Gaza sweep.
One such passage was used by a squad of Palestinian gunmen to infiltrate close to an Israeli farming community before dawn on Thursday. They were repelled by soldiers and air strikes.
Searches were continuing in what he described as an open-ended mission that had "severely impeded Hamas capabilities".
Responding to a Reuters inquiry, the military acknowledged that there was a de facto buffer zone in eastern Gaza but said other Israeli operations continued. Brigadier-General Moti Almoz, chief military spokesman, signaled that the forces conducting the unearthing mission would not stay permanently.
"I can't promise that when we leave the territory we will have exposed all of the tunnels," he told Israel's Army Radio.
CASUALTIES
Gaza medical officials said attacks overnight from Israel killed 20 Palestinians, at least 15 of them civilians, in the northern town of Beit Hanoun and Khan Younis in the south.
The military had no immediate comment on those deaths, though it confirmed carrying out 37 Gaza strikes. It said soldiers raiding a house in Beit Lahiya, another northern town, killed a gunman after he wounded three soldiers.
The Palestinian faction PRC said it had ambushed Israeli troops in Beit Lahiya, inflicting three casualties. Hamas and fellow faction Islamic Jihad said they were shelling troops.
Israel says more than 1,500 rockets have been fired at its towns and cities during this month's fighting, killing one civilian and wounding several others despite a 90 percent interception rate by the U.S.-backed Iron Dome interceptors.
An Israeli soldier was killed in Gaza clashes on Friday.
"There will be no truce without an end to the war that the Occupation (Israel) began, a lifting of the blockade and a halt to all violations and killings in Gaza and the West Bank," Hamas spokesman Sami Abu Zuhri said.
NO CEASEFIRE
The escalation of hostilities, and its toll on Gaza's 1.8 million Palestinians as well as on Israelis jarred by rockets that have reached Tel Aviv and beyond, have spurred so-far fruitless truce bids by Western powers and regional go-betweens.
Egypt has no plans to revise its ceasefire proposal, which Hamas has rejected, Cairo's foreign minister said on Saturday.
U.N. Secretary-General Ban Ki-moon planned to travel to the Israel and the Palestinian territories on Saturday. At an emergency session of the U.N. Security Council on Friday, U.N. political affairs chief Jeffrey Feltman condemned the rockets from Gaza but voiced alarm at "Israel's heavy response".
The United Nations said that more than 50,000 Palestinians have taken refuge from the Israeli attacks in its Gaza shelters.
Hamas, Gaza's dominant Islamist group, refuses to hold fire unless embargoes by Israel and neighboring Egypt are eased and other demands are met. The Israelis say they are ready to step up their Gaza assault, though they do not aim to topple Hamas.
U.S.-backed Palestinian President Mahmoud Abbas, who entered a power-share deal with his Islamist rivals in April, has been shuttling between Egypt and Turkey in search of a breakthrough.
Turkey serving as an intermediary looked unlikely, however, after Israel pared down its diplomatic missions in Ankara and Istanbul this week following sometimes violent pro-Palestinian street protests and what it deemed "incitement" against its by the Islamist-rooted Turkish Prime Minister Tayyip Erdogan.
On Saturday, the Foreign Ministry in Jerusalem advised Israelis to avoid "non-essential" travel to former ally Turkey.
France has also mooted mediation by Qatar, which has helped fund Gaza projects in the past, but Israel is cool to the idea.
The Israelis prefer Egyptian intercession. Yet with Egypt having cracked down on its Muslim Brotherhood – Hamas's ideological kind – and viewing Hamas as a security threat, Cairo's clout with the Palestinian Islamists is in doubt.
Reuters