Kerry Meets Afghan Leaders in Bid to End Deadlock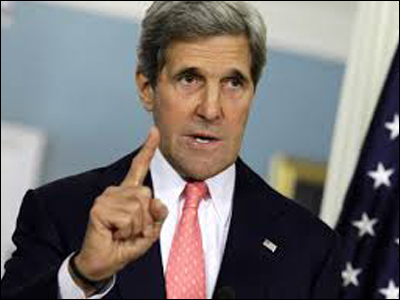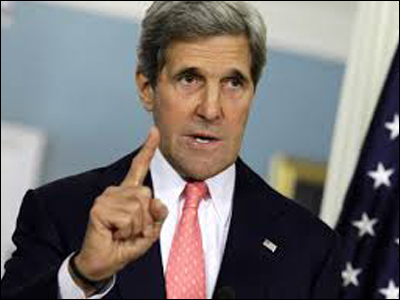 U.S. Secretary of State John Kerry is meeting Afghan leaders in Kabul to urge the formation of a coalition government and end an electoral deadlock between the war-torn country's presidential candidates.
Kerry, who arrived early today after a U.S.-China conference in Beijing, was sent by President Barack Obama to seek a way out of the dispute over election results between Ashraf Ghani Ahmadzai, who was the winner in an initial vote count, and Abdullah Abdullah, who said the results were skewed by systematic fraud.
"We are at a very, very critical moment for Afghanistan," Kerry said today in a breakfast meeting with Jan Kubis, head of the United Nations Assistance Mission in Afghanistan. "The election legitimacy hangs in the balance. The future potential of a transition hangs in the balance, so we have a lot of work to do."
The top U.S. diplomat is armed with a threat by Obama to cut off aid if "violent or extra-constitutional means" are used in the dispute that threatens to splinter the country along ethnic and geographic lines. The U.S. is waiting for the next president to sign an agreement that will keep American troops in Afghanistan beyond this year.
Both candidates agreed to a proposal from the UN's Kubis to audit 8,000 polling stations, Afghan President Hamid Karzai said in a statement last night. That's equivalent to 3.5 million votes, or 43 percent of the total, he said.
'High Hopes'
At stake in Kerry's detour to Kabul is stability as the U.S. prepares to end its combat role in Afghanistan by year-end. Both Ghani and Abdullah have said they would sign an agreement allowing a continuing U.S. military presence in the country after this year, a pact Karzai has spurned.
Kerry met with Karzai at the presidential palace today before his appointments with Ghani and Abdullah. Under pressure from supporters, Abdullah declared himself the election winner, rejecting an initial count that showed Ghani ahead by more than 10 percentage points.
"We obviously have high hopes that the questions about the election will be resolved quickly, can be resolved, and that a way forward can take place," Kerry told Ghani at the start of their meeting today. He thanked Ghani for avoiding a declaration of victory.
"Our commitment is to ensure the election process enjoys the integrity and the legitimacy of Afghanistan and the world," Ghani said. "Therefore we believe in the most intensive and extensive audit possible to restore faith."
Unity Government
Ambassador James Dobbins, the U.S. special representative for Afghanistan and Pakistan, said July 9 that the U.S. role in mediating the disputed election is limited to ensuring that both candidates follow the rules and not to decide who wins.
Dobbins, who has announced he is stepping down from his post, said Abdullah and Ghani should form a coalition government because "a winner-take-all system in Afghanistan is not a workable" option.
"A government of national unity that includes all elements is, we think, a necessity for a successful government," he said at an event organized by the Asia Society in Washington.
The two candidates have, in separate conversations with Kerry, broadly agreed on parts of what a future might look like, including four types of audits of preliminary election results, a State Department official told reporters before arriving in Kabul.
Aid Leverage
It's possible to achieve a more credible and widely accepted outcome than the preliminary July 7 vote in advance of a presidential inauguration on Aug. 2, said the official, who asked not to be named citing policy.
The possibility of a halt in U.S. foreign assistance to Afghanistan would be a blow to the new government, the U.S. official said. Kerry plans to use the funds as leverage in his discussions in Kabul before heading to Vienna this weekend.
Kerry will meet counterparts from the EU and other nations on the Iranian nuclear talks set to expire on July 20, said Marie Harf, a State Department spokeswoman in an e-mailed statement yesterday.
Mohammad Mohaqeq, one of Abdullah's running mates, warned of a crisis if Afghanistan's election commission doesn't void allegedly fraudulent votes cast for Ghani, and proposed a one-year transitional government to avoid potential unrest.
Protest Risk
Demonstrations would continue if Ghani is declared the winner and Abdullah would consider setting up a parallel government, said Mohaqeq, one of Abdullah's vice president candidates, in an interview in Kabul yesterday.
Ghani, a former finance minister, received 56 percent of about 8 million votes, with Abdullah getting 44 percent in the second-round runoff, according to the initial results announced on July 7 by the commission.
Abdullah, a former foreign minister, had led the first round of the election in April with 45 percent of 7 million votes cast, with Ghani taking 32 percent. Neither garnered the majority needed to avoid a runoff.
Abdullah has sought to void about 2.5 million votes in southern and eastern regions, saying the number of ballots exceeded the population in certain areas. A senior election official he had accused of fraud resigned last month.
Ghani is an ethnic Pashtun who served as Afghanistan's finance minister from 2002 to 2004 and finished fourth in the 2009 election. He holds a doctorate in cultural anthropology from Columbia University in New York.
Abdullah is half-Pashtun and half-Tajik. He was a close aide to Northern Alliance commander Ahmad Shah Massoud, an ethnic Tajik seen by many Afghans as a national hero for fighting against Soviet occupiers in the 1980s and the Taliban in the 1990s.
Abdullah and Ghani's row coincides with the highest level of Afghan civilian casualties in the country since 2009, according to a July 9 report by the United Nations human rights office and the international body's mission in Kabul.
Thirteen years of U.S. fighting the Taliban in Afghanistan has cost 2,333 American lives so far, as of June 24.
Bloomberg