U.S. ready to do business with Egypt under Sisi, Kerry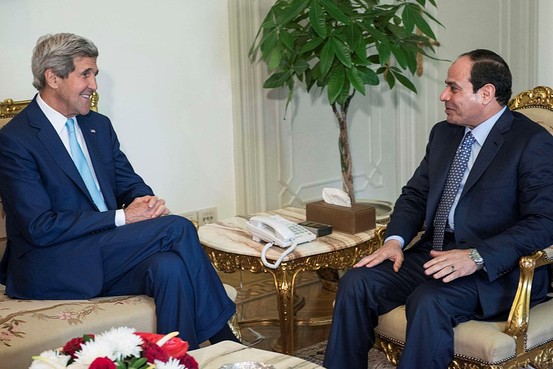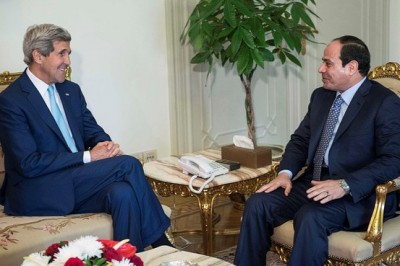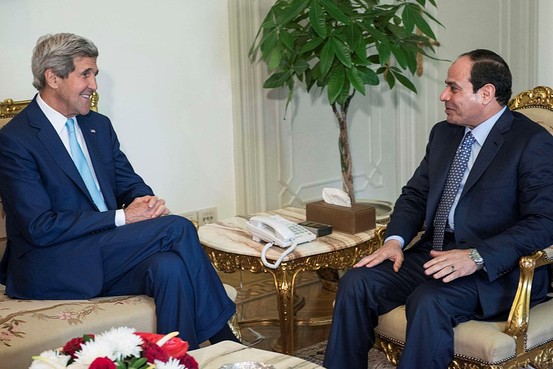 U.S.Secretary of State John Kerry signaled Sunday that the Obama administration was ready to return to business as usual with Egypt under President Abdel Fattah el-Sisi, the former general who led last year's military takeover.
After a 90-minute meeting with Mr. Sisi, Mr. Kerry said at a news conference here that he had come to reaffirm Washington's "historic partnership" with Egypt. "We want to see the people of Egypt succeed," he said, and so he and Mr. Sisi had discussed, "most importantly, our mutual determination for our countries to work together in partnership."
Mr. Kerry expressed firm confidence that the United States would soon restore all of the aid to Egypt, including $1.3 billion annually to the military that the Obama administration had partly withheld after the takeover.
"I am absolutely confident we will get on track there," he said. Addressing a previously suspended shipment of 10 Apache helicopter gunships that the Egyptian military has been especially eager for, Mr. Kerry said he was just as confident "that the Apaches will come, and that they will come very, very soon."
And on Egypt's economic challenges, Mr. Kerry said, President Obama and the United States are "committed to be helpful."
Three years after Mr. Obama called publicly for President Hosni Mubarak to bow to the Arab Spring uprising demanding his ouster, Mr. Kerry's remarks appeared to suggest that the administration is now ready to work with another military-backed strongman.
Mr. Sisi won 97 percent of the official votes in a barely contested election last month, and both European and United States-funded observer delegations said it fell short of international standards of democracy. But Mr. Kerry's comments suggested that the Obama administration was nonetheless ready to end its unsuccessful, yearlong attempt to use a mild threat of an aid cut to push Egypt's new military-backed government toward reconciliation or reforms.
Mr. Kerry tacitly acknowledged the administration's criticisms of the new government's authoritarian record, including its heavy-handed crackdown on both the Islamist opposition and liberal or leftist dissenters. "I emphasized also our strong support for upholding the universal rights and freedoms of all Egyptians, including freedom of expression, peaceful assembly and association," he said.
Mr. Kerry said they had talked about the verdict expected Monday in the case of three journalists who have been jailed since December on politicized charges without any publicly disclosed evidence of a crime. And he said they had also talked about the hurried mass trials that had handed death sentences to more than a dozen senior leaders of the Islamist opposition and hundreds of their supporters, arousing horrified alarms from Western governments and rights groups.
He also alluded to the government's criminalization of membership in the Muslim Brotherhood, the Islamist group whose party dominated the recent free elections but has since been excluded from politics. "There is no question that Egyptian society is stronger when all of its citizens have a say and a stake in its success," Mr. Kerry said.
But he noted sympathetically that Mr. Sisi had held the formal title of president for just days (although in truth Mr. Sisi has been the government's paramount decision-maker since he led the military takeover). Sounding hopeful, Mr. Kerry said that the new president "gave me a very strong sense of his commitment" to "a re-evaluation of human rights legislation" and "a re-evaluation of the judicial process."
Mr. Kerry visited Cairo on Sunday on the first leg of a trip to try to rally Arab support on the Iraq crisis, and on that subject he appeared to step up the United States' efforts to pressure Prime Minister Nuri Kamal al-Maliki of Iraq to share or give up power.
But in Cairo, his words for President Sisi were notably warmer, marking a milestone that Egyptian officials have awaited with increasing impatience since the military takeover that ousted President Mohamed Morsi.
Senior Egyptian officials have said all along that they expected the Obama administration's scolding to blow over and full aid to resume. In a television interview during his three-week campaign, Mr. Sisi acknowledged that American laws complicated the matter by mandating a cutoff after a military takeover.
But he said that he had told United States officials, "Look at us with Egyptian eyes" and "don't apply your culture, your regimes and your development," and he predicted that after the election, relations would improve.
In Washington, influential senators are still threatening to block a full restoration of aid unless Egypt shows it is taking steps toward open democracy. The State Department has continued to raise concerns about the government's crackdown. United States officials continue to dispute the Egyptian government's assertion that Mr. Morsi's supporters in the Muslim Brotherhood are violent terrorists behind a wave of revenge attacks against soldiers and the police.
"We do not share the view of the Egyptian government about links between the Muslim Brothers and terrorist groups," said a senior official who traveled here on Mr. Kerry's plane. "We do not have information that would substantiate that link."
The administration believes "the Egyptian government needs to have a very politically inclusive approach, which means that they need to include and find ways to reach out to the Muslim Brothers," the official said.
Mr. Kerry — whose unscripted remarks have sometimes sounded more sympathetic to the military takeover than the State Department's prepared statements — no longer says publicly, as he did last year, that the Egyptian military was "restoring democracy" when it deposed Mr. Morsi, the nation's first freely elected president.
The day before Mr. Kerry arrived, riot police officers with tear gas and clubs had worked in tandem with plainclothes supporters throwing bricks and bottles to break up a march by liberal groups demanding only the right to demonstrate; dozens were arrested.
But in his news conference on Sunday, Mr. Kerry nonetheless described a meeting of the minds. "I think we really found ourselves on a similar page of changes that have yet to be made, promises that have yet to be fulfilled," he said of his meeting with Mr. Sisi, adding that there was "a serious sense of purpose and commitment by both of us to try to help achieve those goals."
NY Times